Hello again, it's me, Swampy, and I'm back with a two part tutorial to make scrappy improv blocks using strings.  In these tutorials, I'll talk you through assessing the value of your fabrics and how to use basic foundation paper piecing techniques to create blocks for a dynamic quilt design.  I've split the tutorial into two parts because this design is laid out using two alternating blocks to create an overall pattern similar to my last tutorial about the Greek Cross Alternate Block.
For Part 1, we will prepare our paper foundations, choose our fabrics and arrange them in value order, and finally, sew the Improv Stripes block using regular copy paper.  In Part 2, we'll sew the Improv Braid block using freezer paper and look at some possible layouts for our blocks.  Let's get started!
To make the pair of blocks in the tutorials, you will need:
Six sheets of copy paper/lightweight paper large enough to be cut into two 12 1/2″ squares OR freezer paper (to be discussed in Part 2)
Pencil
Paper cutting scissors
Ruler
Water soluble glue stick (if using copy paper)
Fabric
Thread
Preparing Your Template
If you are making the whole quilt, you may prefer to use freezer paper so you can reuse your templates over and over.  I've you've not done freezer paper piecing before, stay tuned for Part 2 to learn the technique!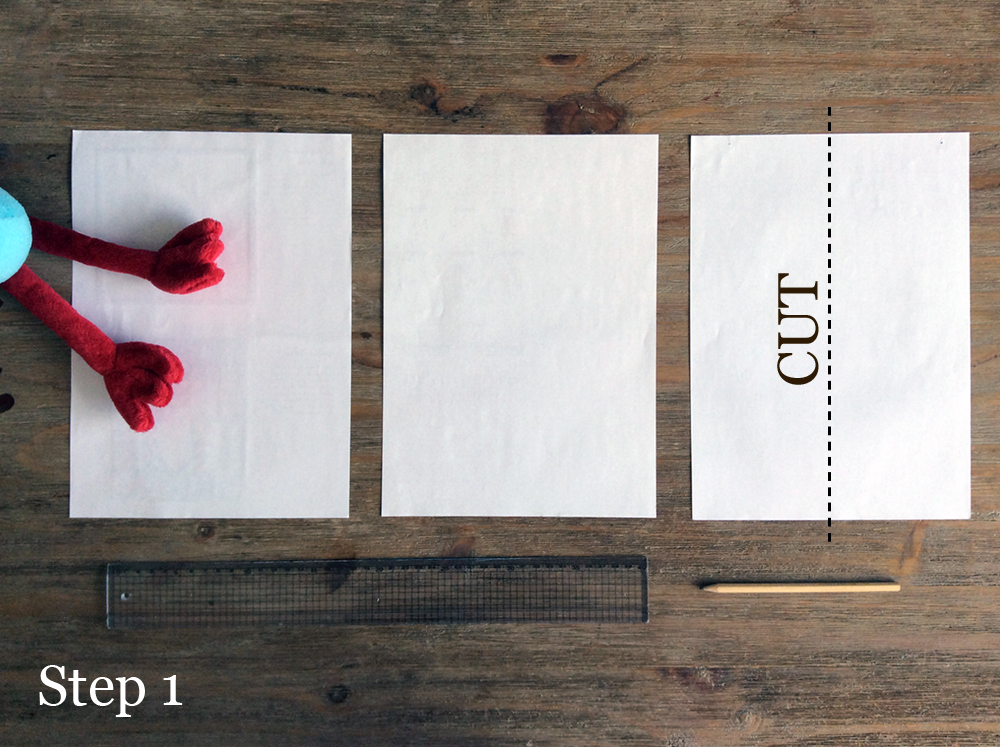 1. If using copy paper, take three sheets and cut one sheet in half lengthwise.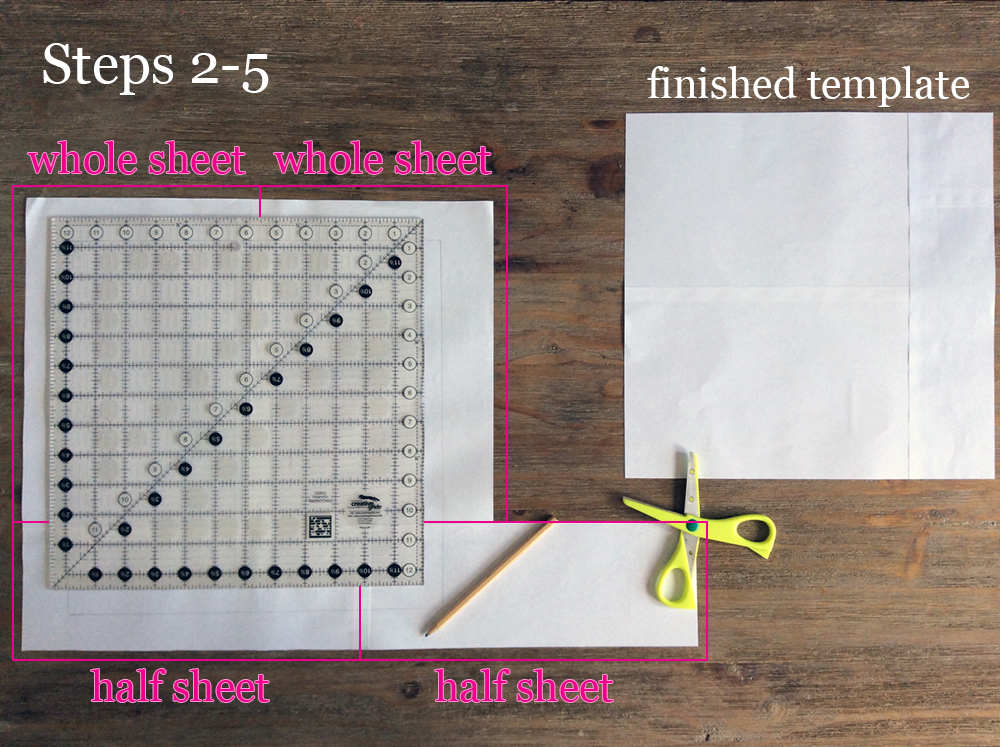 2. Glue the two full sheets together along the long edge and the two halves along the short edge.
3. Glue the two resulting large pieces together along the long edge.
4. Repeat with other three sheets of paper.
5. Draw a 12 1/2″ square on each created large paper sheet and cut out with your paper cutting scissors.  If you have one of these large square rulers you can just trace around it, but you can use a normal ruler also!
6. Set templates aside for the glue to dry while choosing fabrics.
Selecting Fabrics
For your fabrics, use a selection of either warm or cool colours.  I will be using warm colours!
Solids and prints or a mix of both will be equally effective in this quilt, but be careful using prints with a lot of different colours.  You will have an easier time creating your gradation of values if you stick with tone-on-tone prints.
You'll need about 10-20 different fabrics.  Because it's improv, it's hard to gauge exactly how many you will need; you may use less or you may use more!   You will use less for the Improv Stripes block, but you'll definitely want to have more ready for the Improv Braid block.   I used 12 fabrics for my Improv Stripes block and 17 fabrics for my Improv Braid block.
If you don't think you have quite enough different fabrics, cut your strips on the wider side and also some clever alternating can go a long way.  i.e. Instead of Fabric 1, 2, 3, 4, etc., try Fabric 1, 2, 1, 3, 2, 3, etc.  As long as you have something overall resembling a gradation from dark to light you'll be alright!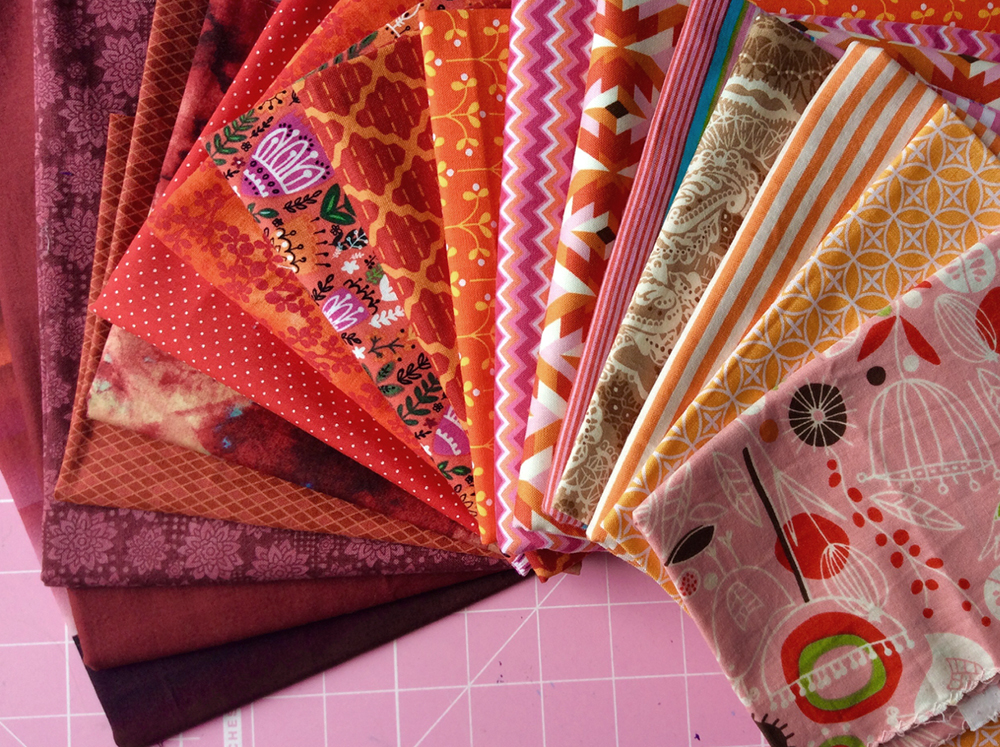 Lay out your fabrics and try to arrange them from darkest to lightest.  The darkness or lightness of a fabric is the fabric's value.  Try not to think too much about the colour of the fabrics themselves (so long as they fit within our colour scheme) and instead consider each fabric's place within the range of value.  This photo is actually not very good because the fabrics are folded so they have shadows on them.  Lay out your fabrics flat to avoid this!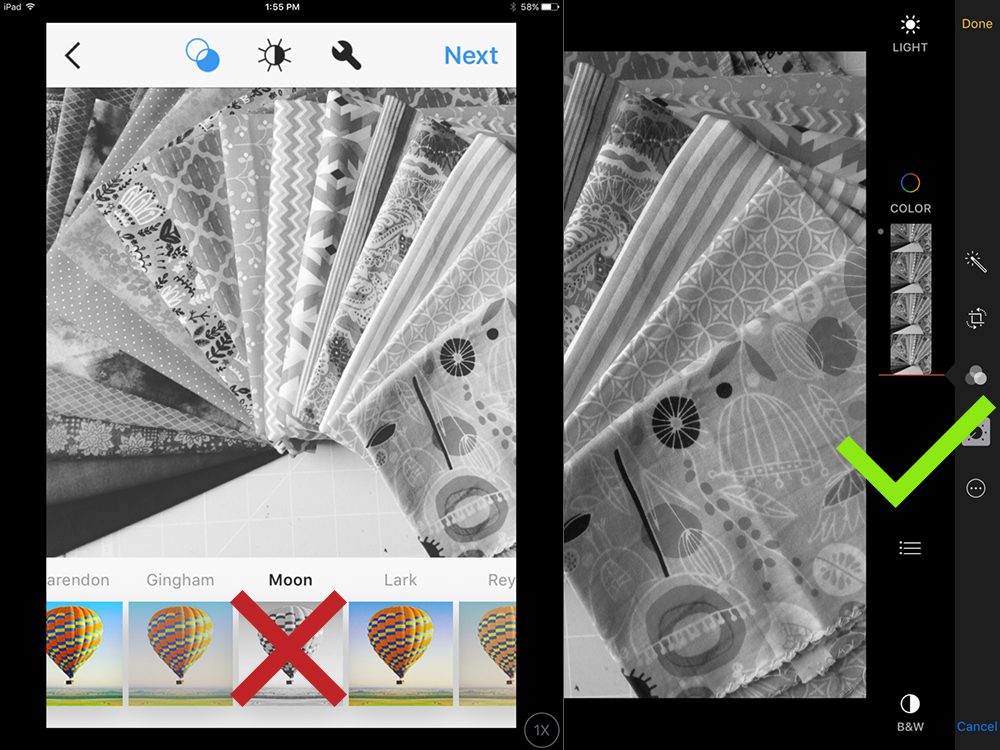 If you're having trouble, it can help to take a step back and squint at the fabrics or to take a photo of the fabrics and convert it to greyscale.  The latter method removes the distraction of the colours and allows you to look only at the value.  However, make sure you are only converting to greyscale and not applying a black and white filter, as sometimes these adjust the values of your photo in addition to converting to greyscale.
If you're still having trouble, it may be that your fabrics are all very similar in value.  Have another look at your stash and try to throw in a couple that are obviously lighter or darker than those you have selected already.
Also, bear in mind if a fabric is slightly out of place in your gradation it won't have much impact because we're using so many fabrics throughout our blocks and quilt top. Trust that your overall design will still be effective!
Sewing the Improv Stripes Block
1. Reduce the stitch length on your machine slightly.  The standard on mine is 2.5 and I reduce to 1.5 for paper piecing.  This will make it easier to remove the paper template later.
2. Have a look at your fabrics overall.  If they lean more towards the light side, start with your lightest colour.  If they lean more towards the dark side, start with your darkest colour.  I think my fabrics look mostly dark, so I'm starting with my darkest fabric.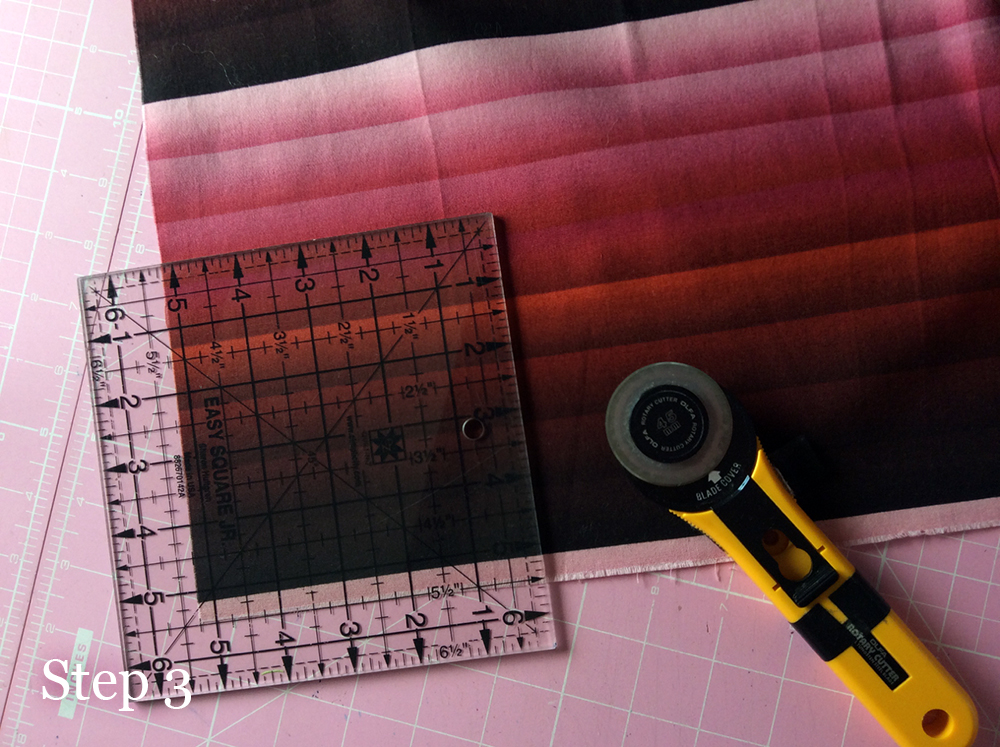 3. From your lightest or darkest fabric selected in Step 1, cut a 5″ square.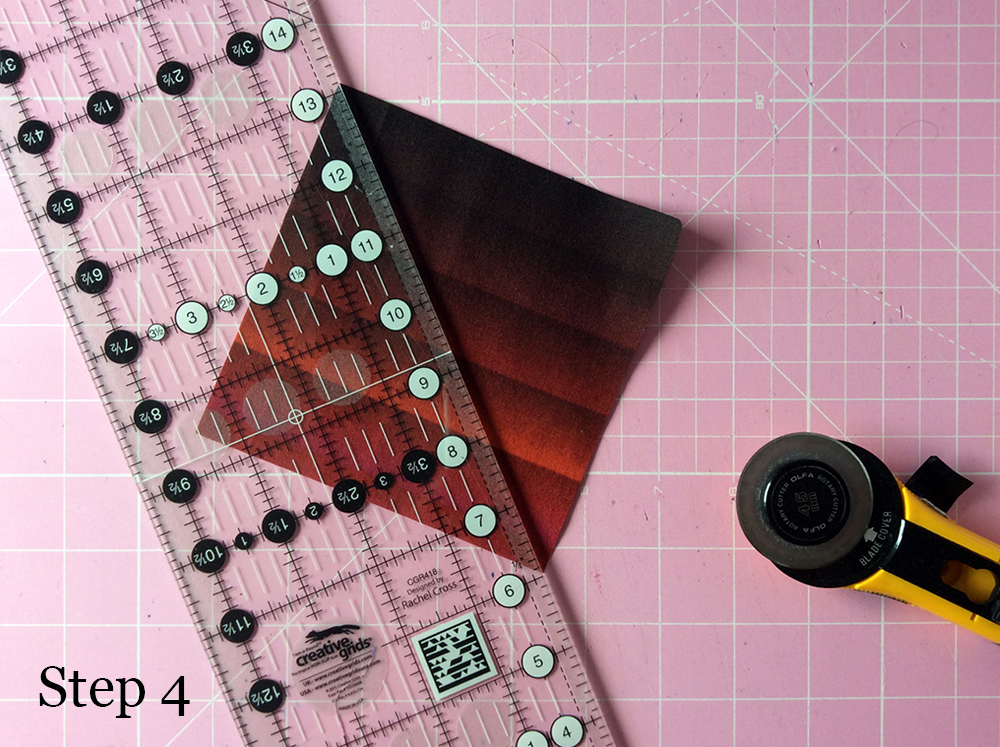 4. Cut the square in half diagonally to create two right triangles.  Set one triangle aside to use for your Improv Braid Block in Part 2.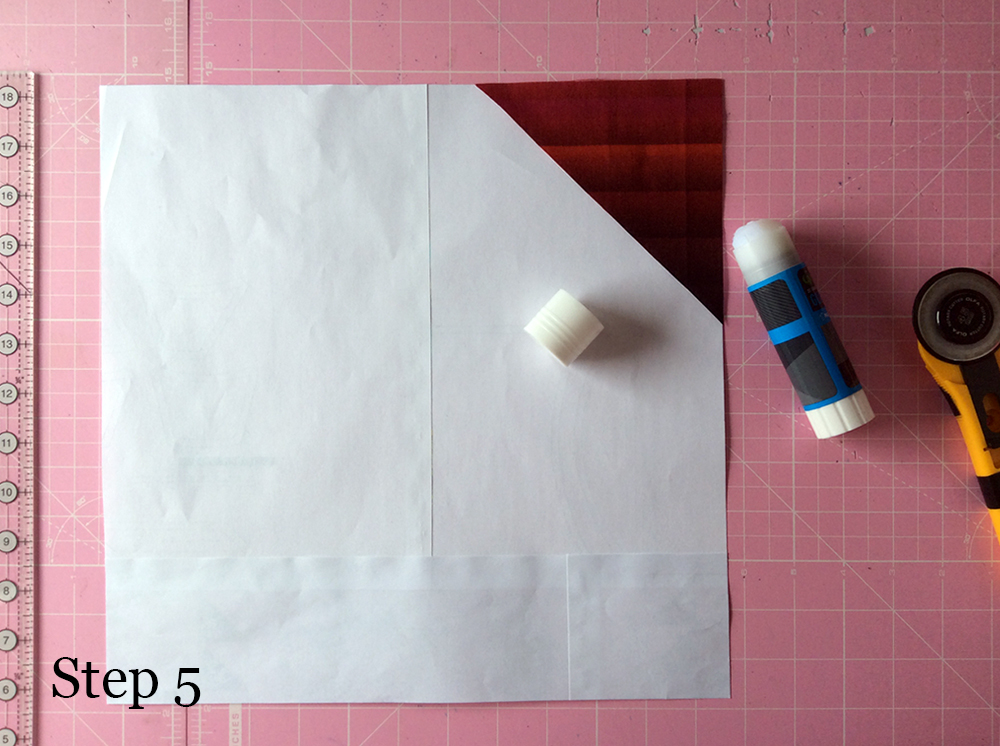 5. Using a small dab of glue from your glue stick on the wrong side of the fabric, attach the second triangle to the corner of one of your paper templates, lining the right angle up with the corner of the paper.
6. Turn your paper template over.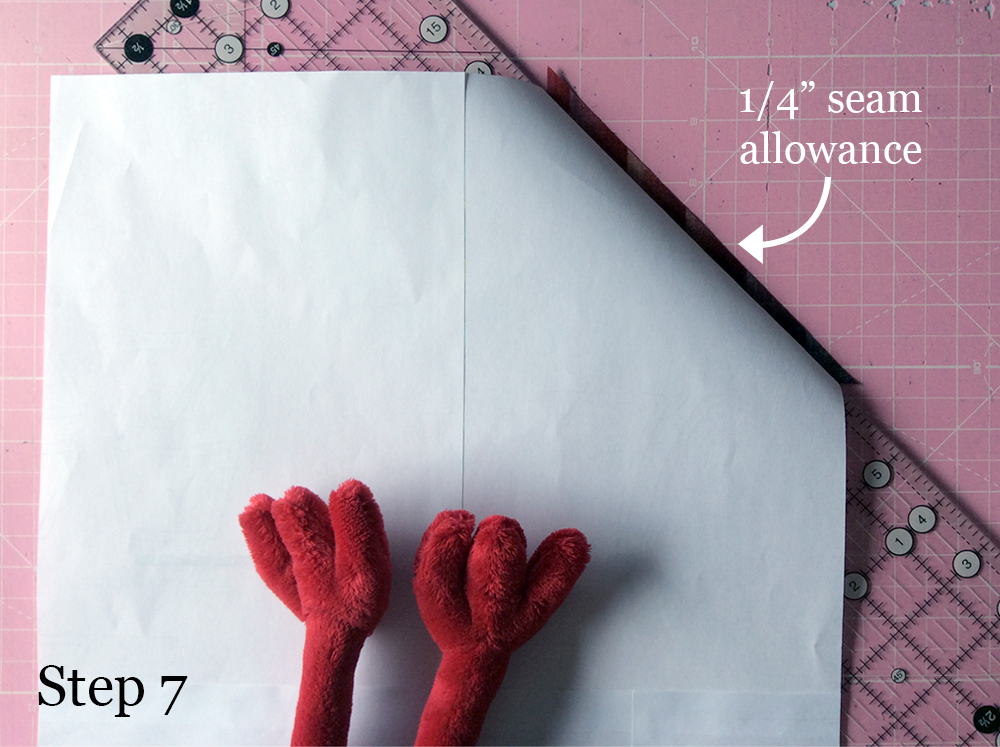 7. Placing one hand on the corner with the fabric and holding it down, fold back the paper to reveal at least 1/4″ of the fabric triangle and crease the paper firmly.  It doesn't have to be perfect, this is improv after all!  It may help to hold a ruler with your holding hand (as shown above) to get the crease started.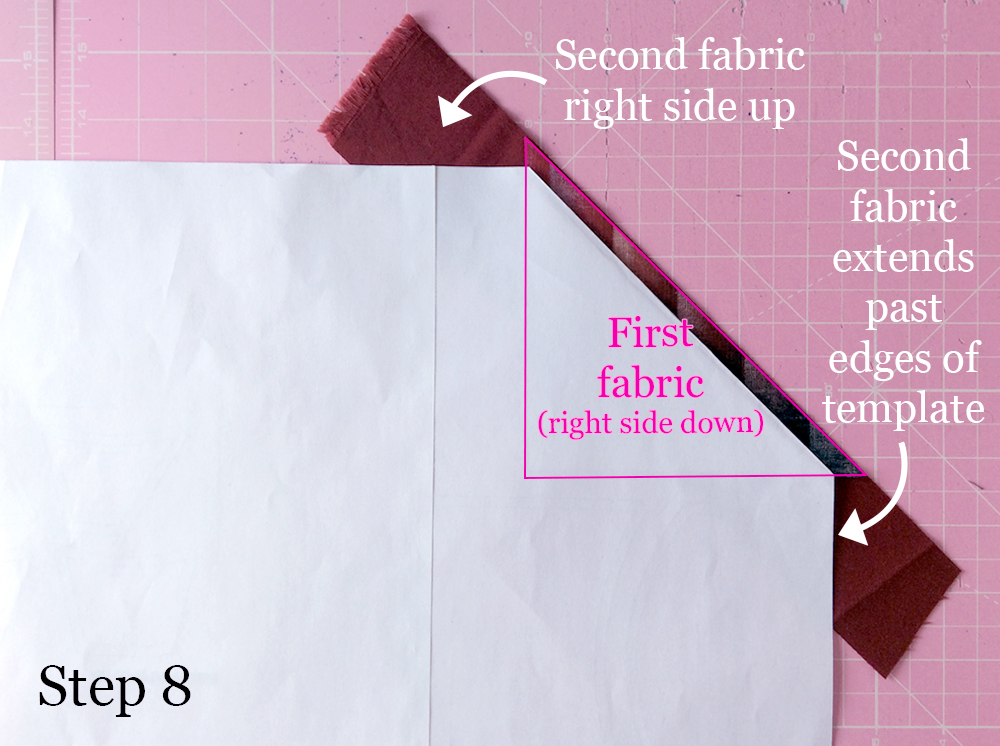 8. Next cut a strip of your second fabric (next lightest or darkest in your gradient of values).  The strip can be any width from 3/4″ to 2 1/2″ (it can even vary in width from one end to the other), but it must be long enough that it extends past the edges of the folded back part of the template on both sides when it is placed as per the above photo. Make sure the right sides of the two fabrics are together.
9. With the two pieces held together, unfold the paper template.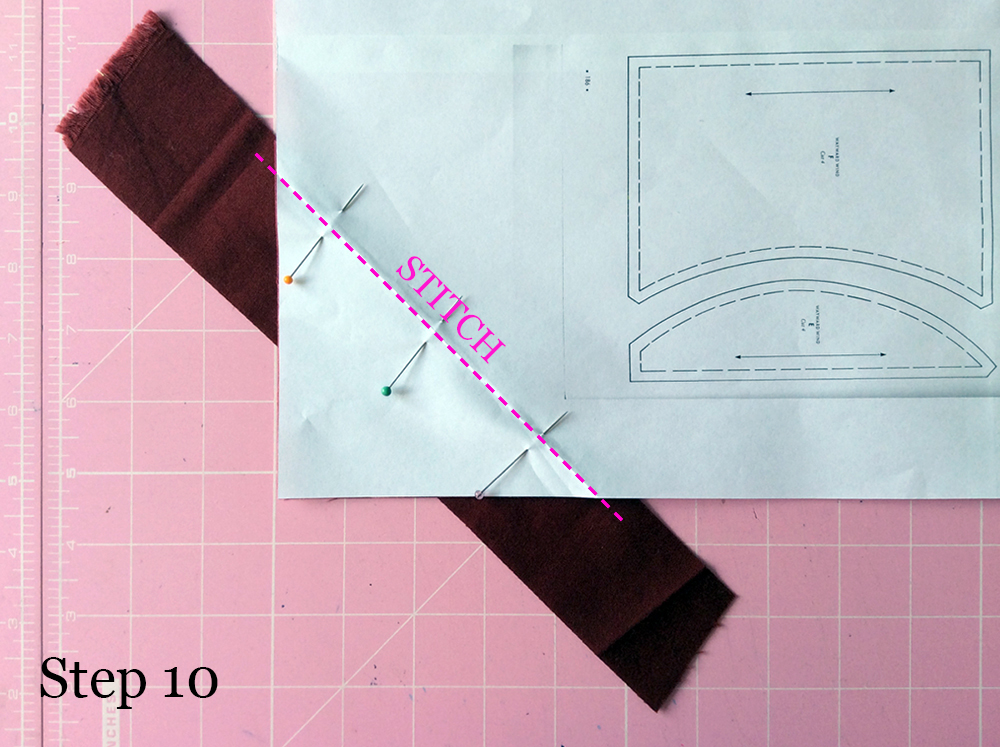 10. Pin through paper and both pieces of fabric along the crease made in Step 7. (ignore the printing on my paper, it was from the recycling bin!)
11. Sew through the paper and both pieces of fabric along the crease you made in Step 7.  If the light on your sewing machine is quite bright, it can be difficult to see the crease.  If this is the case for you, go ahead and trace over it with a pencil before sewing!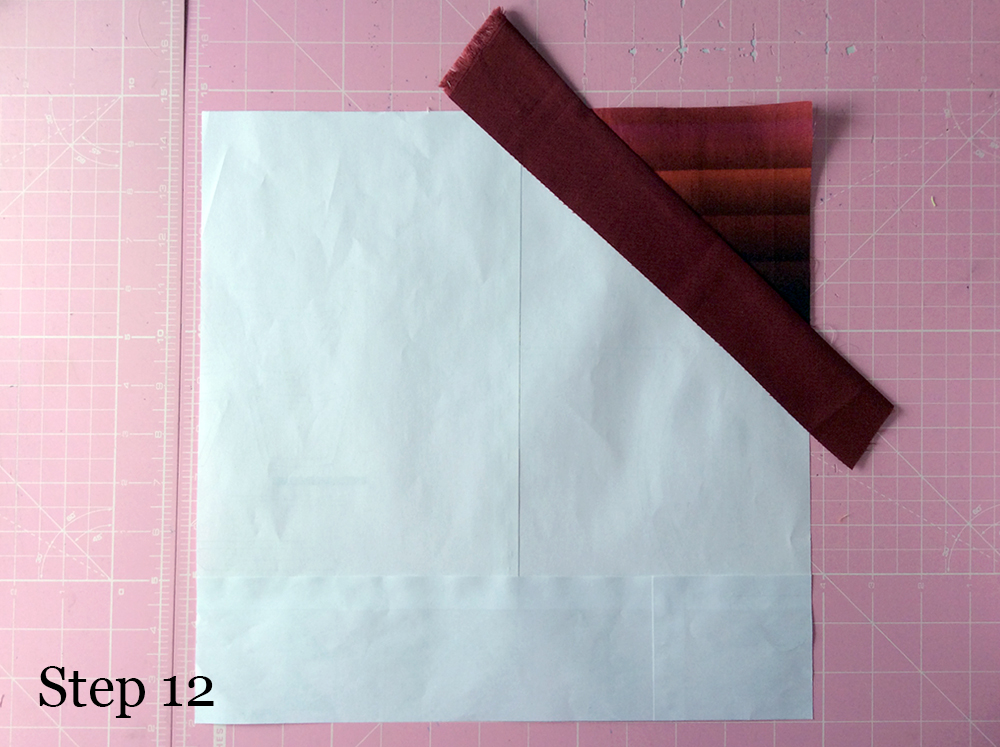 12. Flip everything over (so the fabric is on top) and press the two pieces of fabric open.  Be sure your iron is dry!  No steam or you will be very unhappy with the outcome!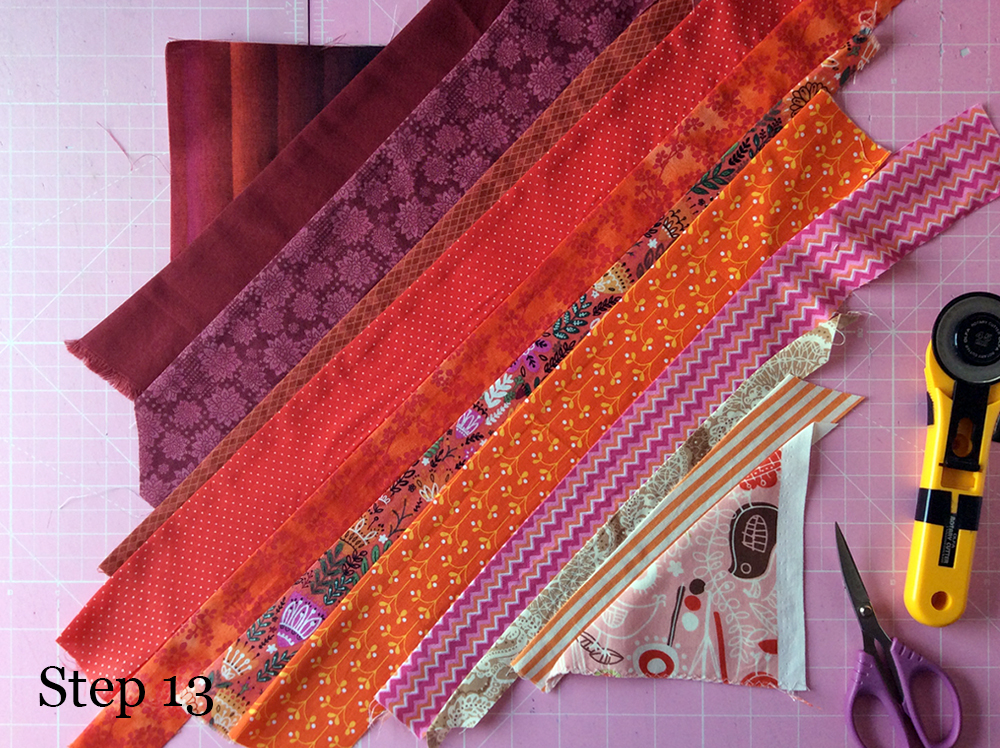 13. Repeat Steps 6 to 12 until you've completely covered your paper template with fabric.
14. Trim your block down to 12 1/2″ square, using the paper as a guide.  Be cautious not to cut the paper template with your rotary cutter as this will dull your blade quickly.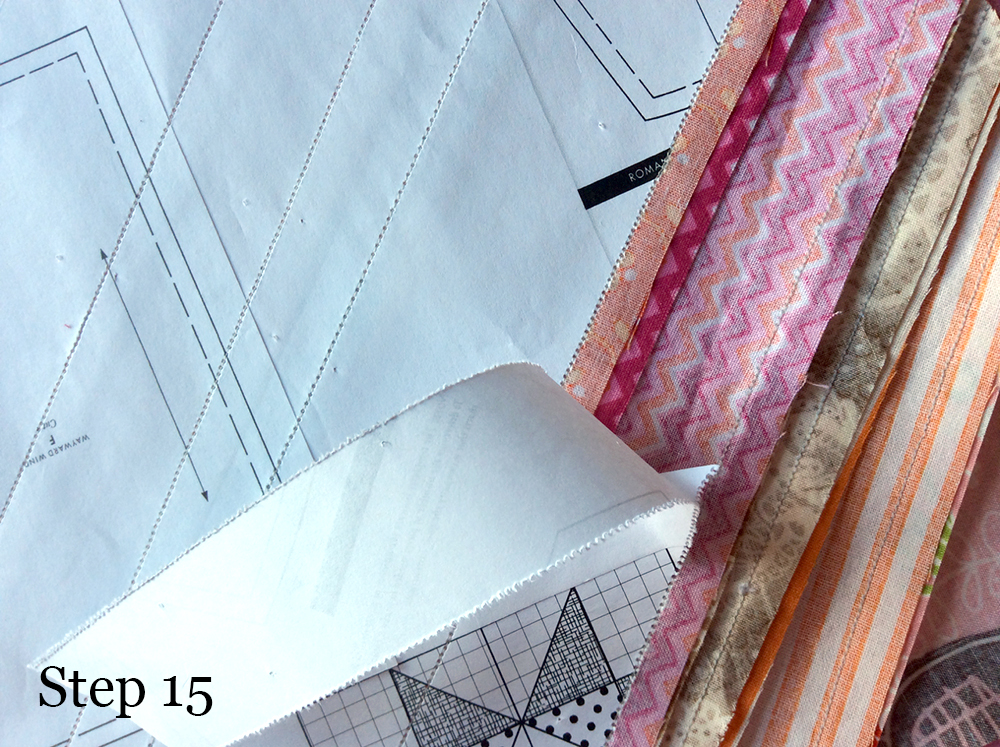 15. Gently peel the paper off the back of your block, taking extra care at the edges to not stress or pull apart the seams.  Don't forget to recycle!
16. Press well and you're done!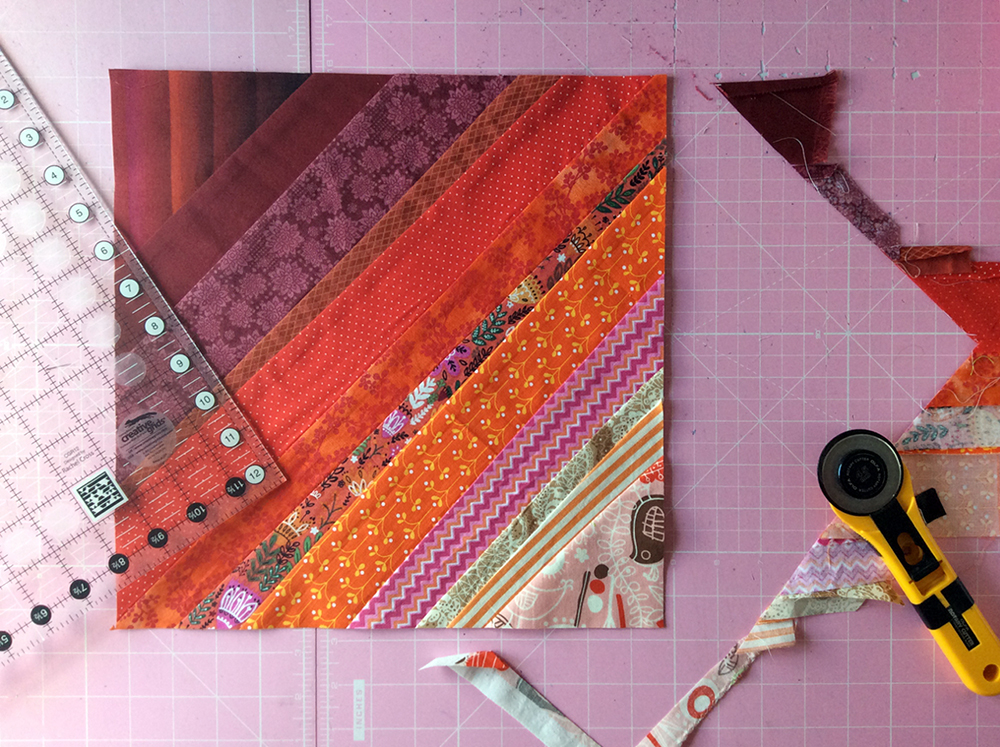 If you have any questions, ask in the comments below.  Stay tuned for Part 2 (hopefully mid-next week)!