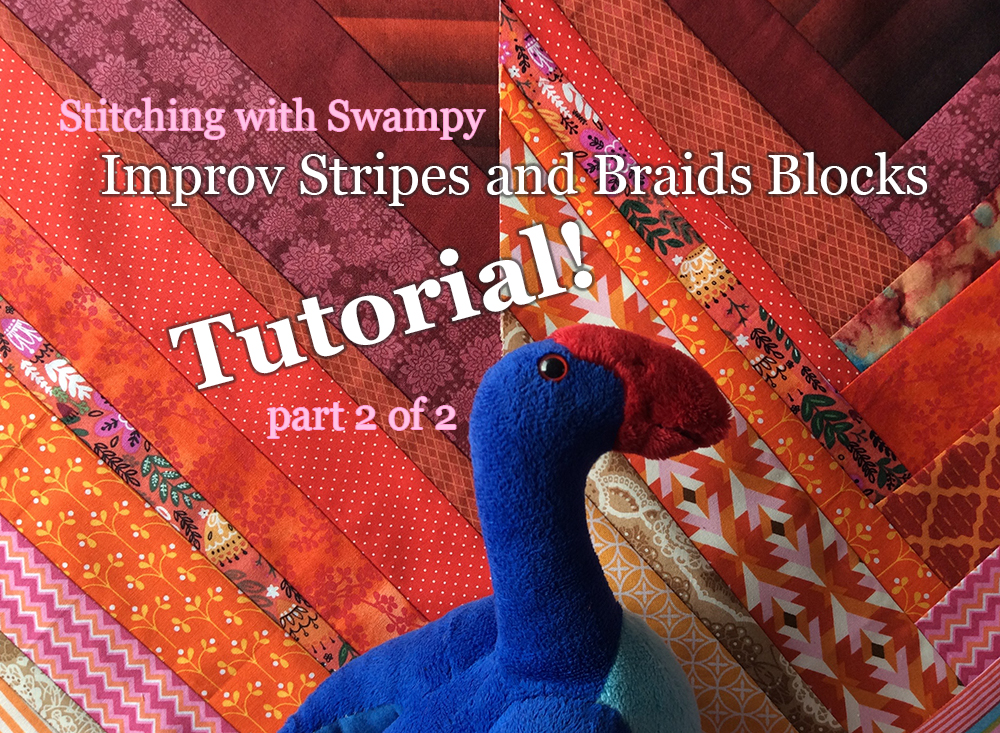 Welcome back to Part 2 of the Improv Stripes and Braids tutorial series. We've already completed our Improv Stripe block, so let's get right into the Improv Braid block. Left over from last time, you will need the following:
3 sheets of copy paper/lightweight paper large enough to be cut into two 12 1/2″ squares OR freezer paper
Pencil
Paper cutting scissors
Ruler
Water soluble glue stick (if using copy paper)
Fabric
Thread
5″ half square triangle left over from Part 1.
In Part 1, we used the copy paper and the foundation paper piecing technique to sew the Improv Stripe block, but for this tutorial we'll be using freezer paper to mix things up. If you're using regular paper, assemble your template as in Part 1 and skip on to step 2. Then be sure to subsequently sew through the paper as normal rather than sewing next to the fold.
If you haven't used freezer paper before, it comes on a roll like this which can often be found at the supermarket near the foils and cling wrap, or here in New Zealand it is sometimes sold by the metre at quilt shops or by the roll at Martha's Backyard. I recommend the roll because it's a good value (I use it often and I'm only on my second roll ever) and it can be used for a number of different quiltmaking techniques. Be careful not to buy parchment/baking paper or wax paper by mistake, these will not work!
Now that you have your freezer paper, take a closer look at it. You'll see one side is matte and papery and the other side is glossy and plastic-y. The freezer paper is great for the technique we'll be using today, because when ironed the fabric will temporarily stick to the plastic side. This means you won't need to sew through the paper like when using normal paper and your template can be reused many times. You can also use a normal stitch length, so it is easier to unpick if you have any missteps!
Improv Braid Block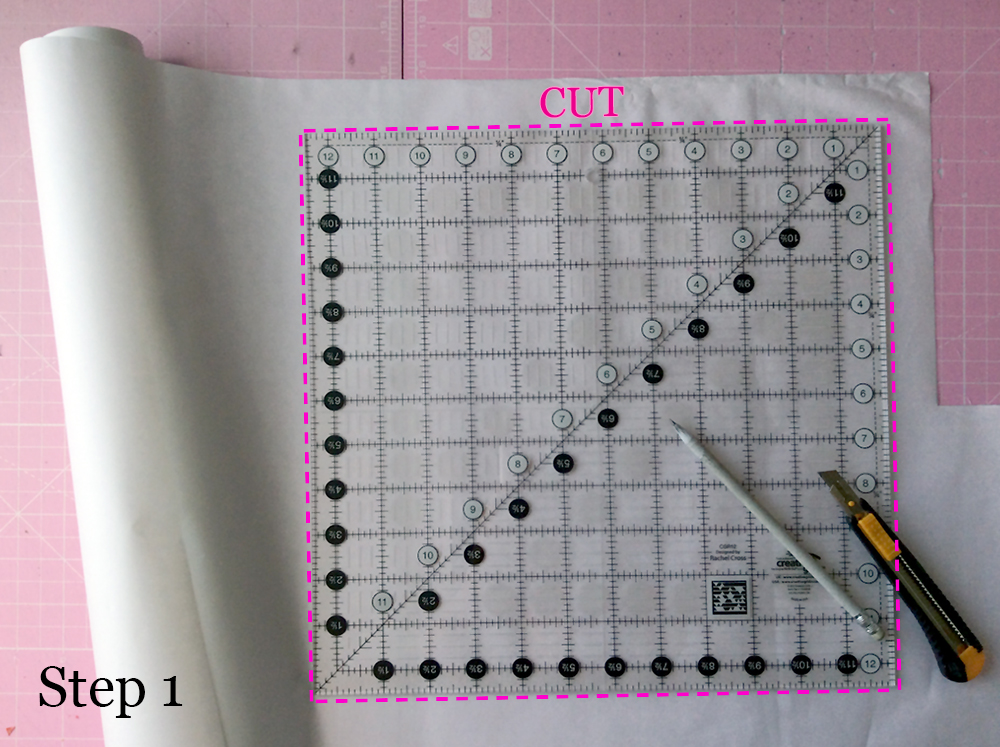 1. Cut at 12 1/2 square of freezer paper with paper cutting scissors (or craft knife as pictured). This is your template.
2. Fold template in half, crease well, and unfold.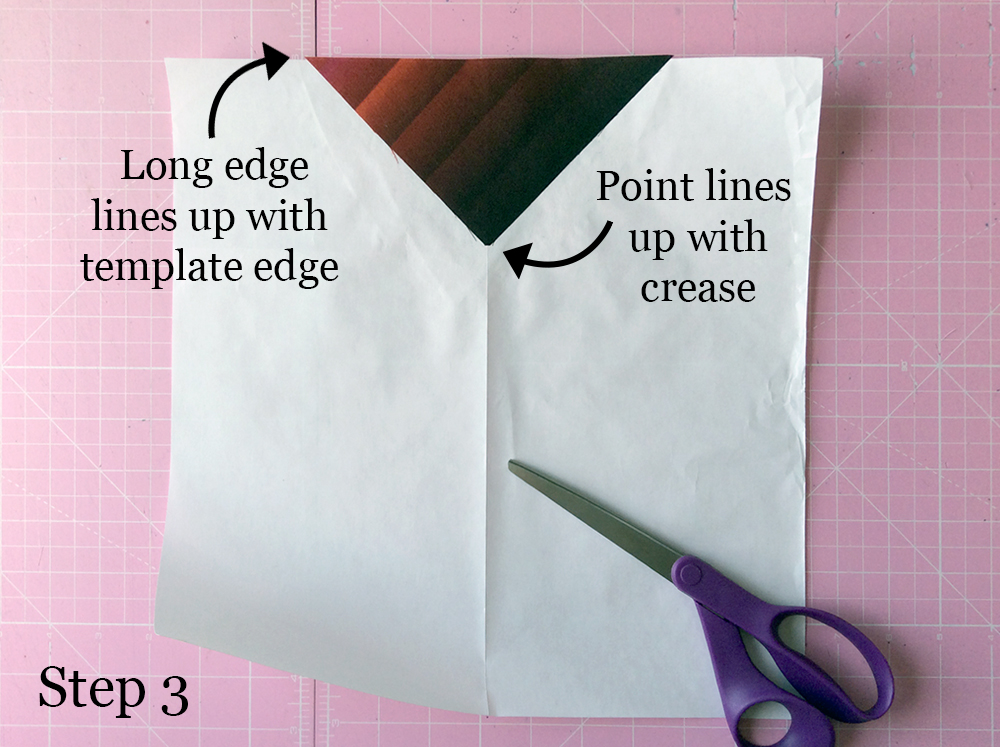 3. On the plastic-y business side of the freezer paper, place 5″ HST leftover from Part 1 right side up with the long edge at the edge of the template and the point on the crease created in Step 2. Press with the dry iron to attach, being careful not to touch the iron to the exposed freezer paper (or use a small dab of glue to attach if using regular paper).
4. Turn over template and attached triangle so papery side of freezer paper is up and fabric is on the bottom.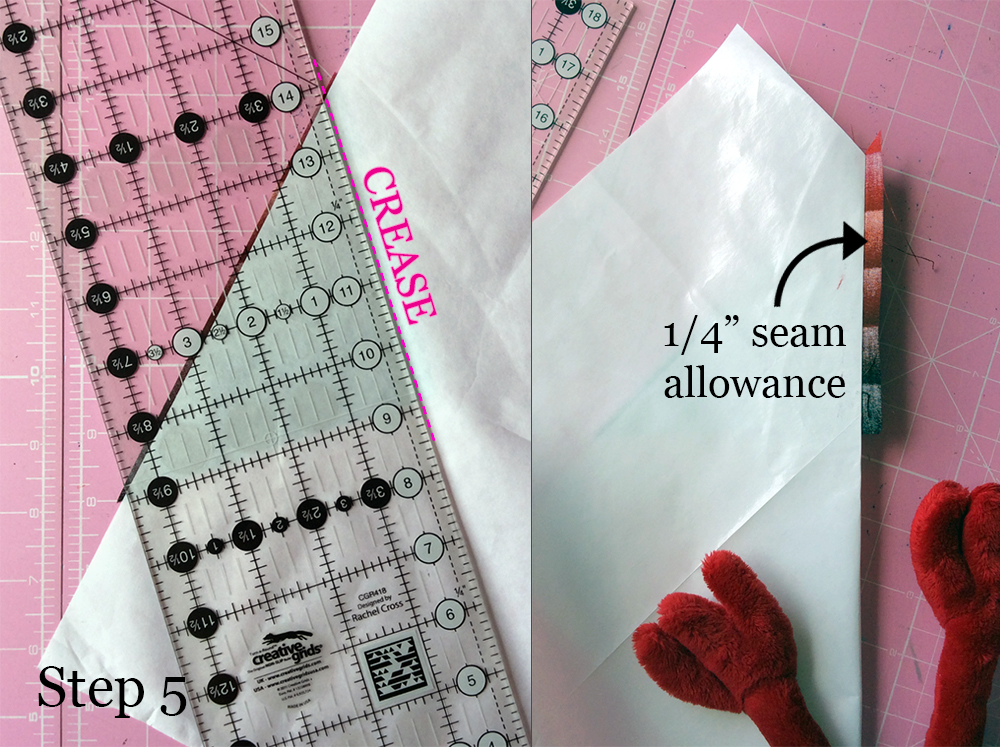 5. Place ruler over bottom right side of triangle and pull back freezer paper to reveal at least 1/4″ of the fabric triangle and crease firmly. If the exposed 1/4″ is stuck to the freezer paper, gently unstick it so the fabric lies flat.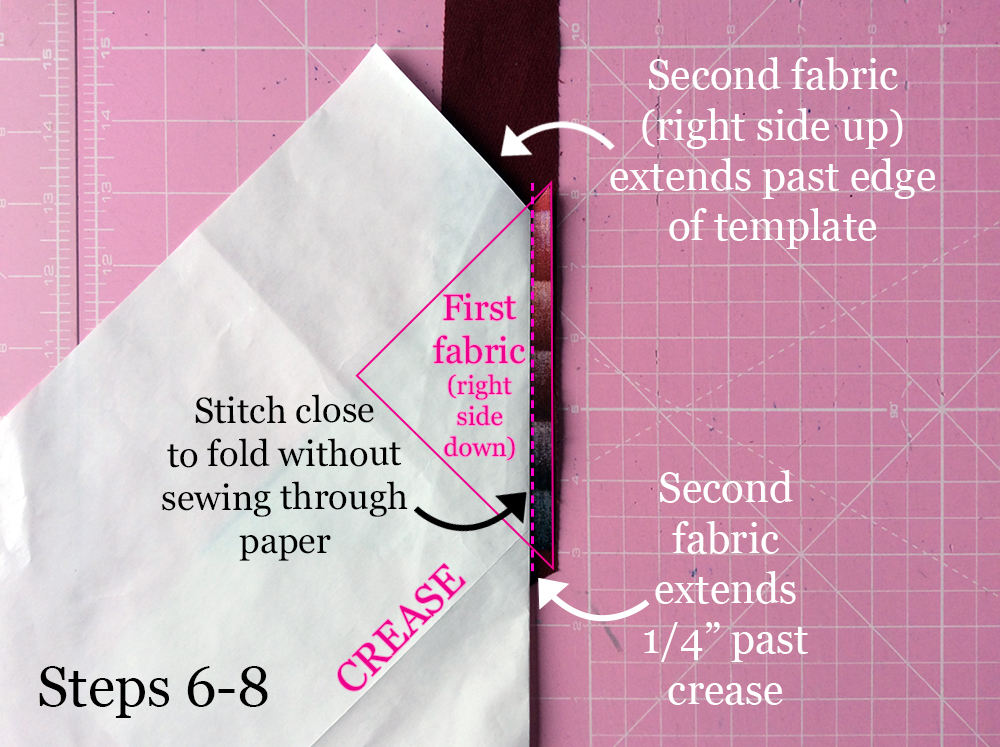 6. Next cut a strip of your second fabric (next lightest or darkest in your gradient of values). The strip can be any width from 3/4″ to 2 1/2″ (it can even vary from one end to the other), but it must be long enough that it extends past the edge of the folded back part of the template and 1/4″ past the centre crease created in Step 2.
7. Place your folded template and attached fabric on top of the cut strip with right sides of the fabric together. If you're unsure if your strip is long enough, hold everything together up to a window or light source to be certain!
8. If using freezer paper, do not unfold the template. Stitch the two pieces of fabric together by sewing as close to the creased freezer paper as possible without sewing over it. Don't worry too much about the seam allowance as long as it is more than 1/4″ and less than 1/2″. Trim it down if you need to. (If you are using copy paper, unfold the template then sew along the crease created in Step 5 through the paper and both layers of fabric, stopping exactly on the centre crease created in Step 2.)
9. Unfold the template and press the fabric pieces open. If you do this from the back (papery side) of the freezer paper with a bit of calico or scrap fabric underneath, you will keep your iron and ironing board clean.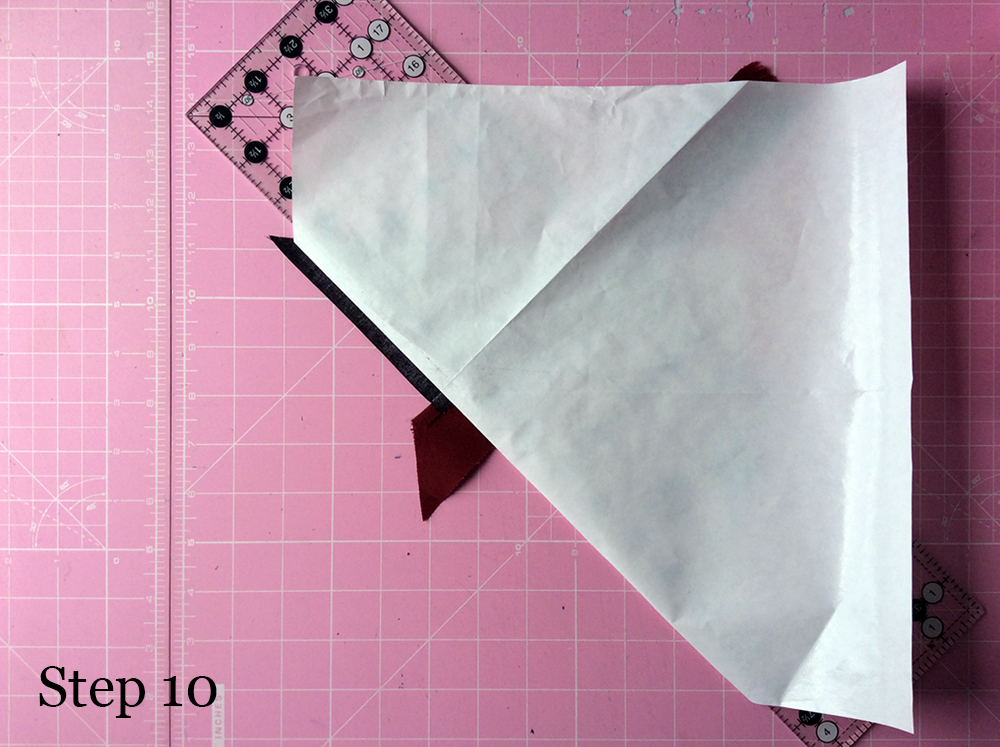 10. Now repeat the process on the left side of the triangle. Place ruler on the left side of the triangle and pull back freezer paper to reveal at least 1/4″ of the fabric triangle and crease firmly.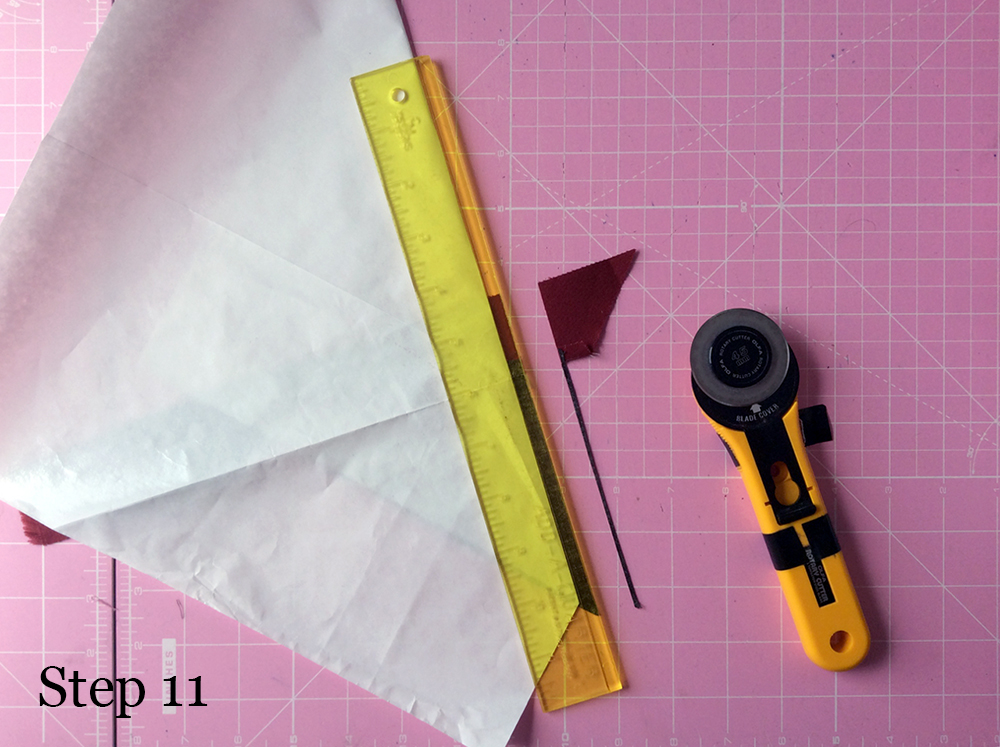 11. Trim the visible fabric to a consistent 1/4″ seam allowance.  The Add-a-Quarter ruler (pictured above) is great for this if you're doing a lot of it, but a regular quilting ruler works fine also.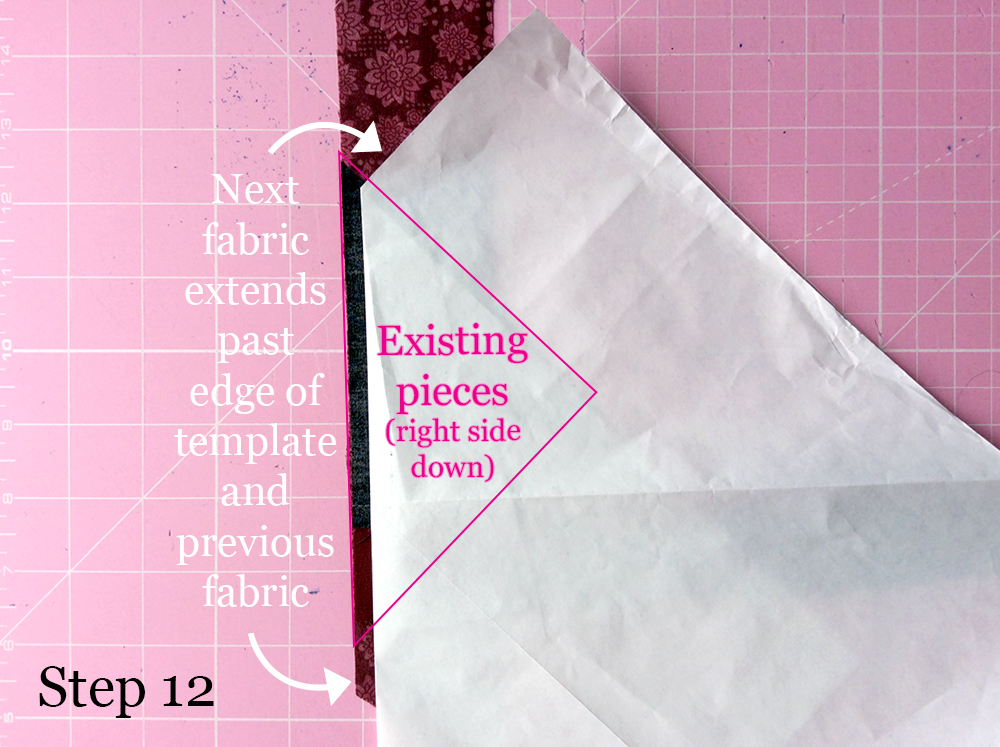 12. Cut a strip of your next fabric, this time long enough to extend past the edge of the folded back template and the edge of your previous fabric.
13. Stitch along the fold as close as possible without sewing over the template. (Again, if using copy paper, sew through paper as normal and stop 1/4″ from the edge of the shorter fabric.  It can be helpful to mark it with a pin so you can see what you're doing!)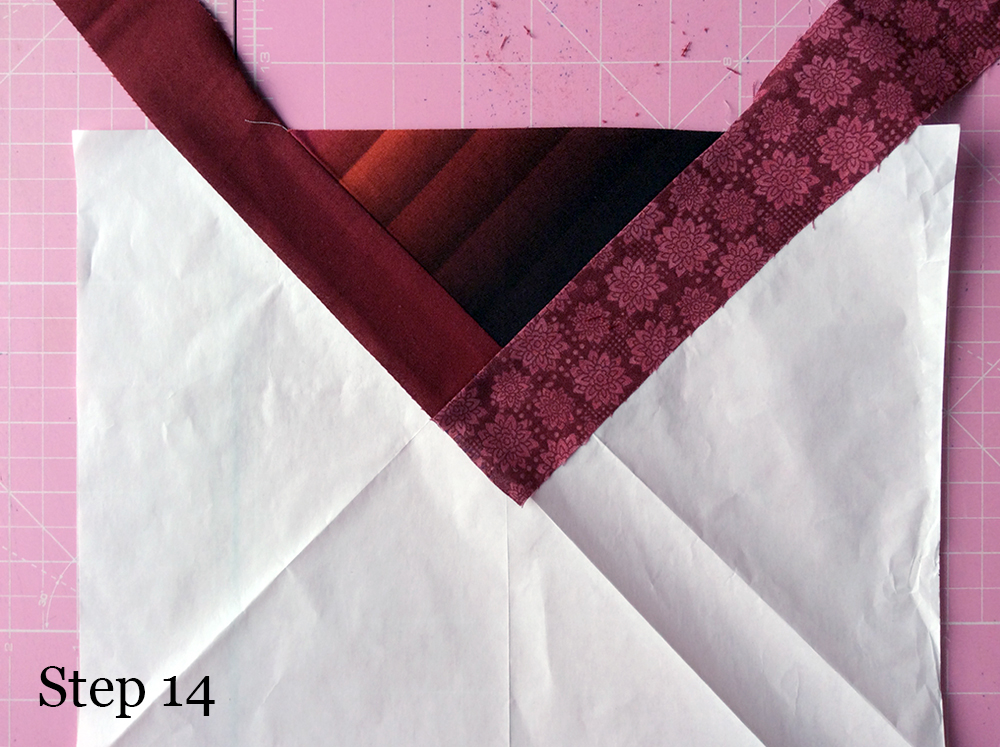 14. Unfold template and press fabric open.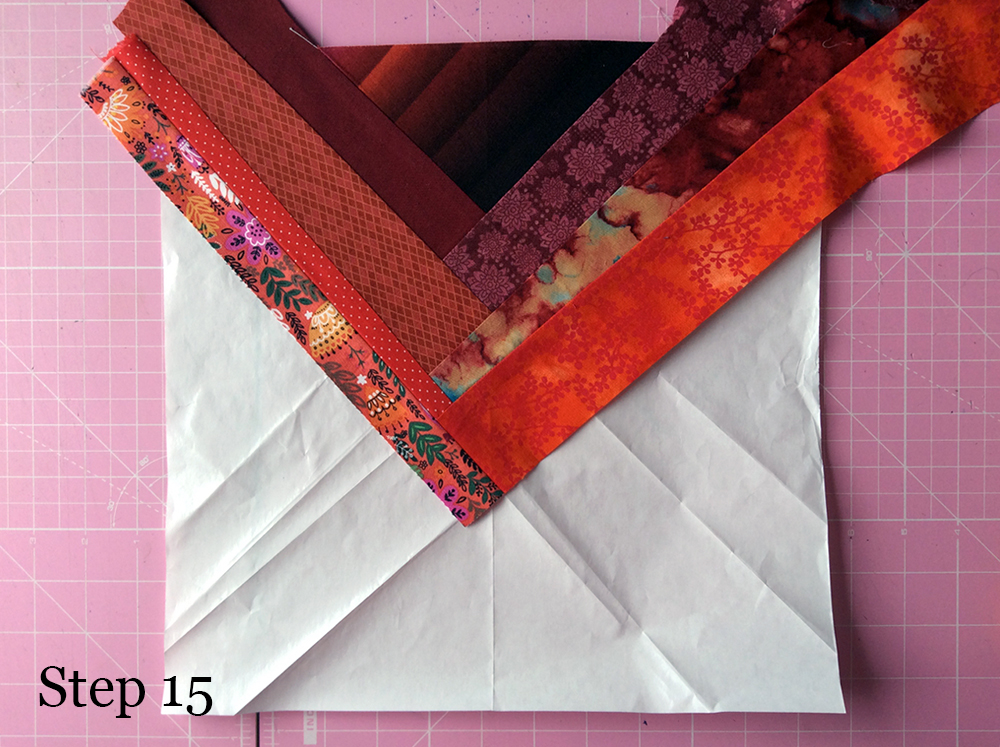 15. Repeat Steps 10-14 alternating right and left side until you have completely covered the template. If you find your braid becoming a bit lopsided (i.e. the point of the V is nowhere near the centre crease), sew narrower strips on the side the point is straying towards and wider strips on the side the point is straying from until you get back on track! When you get down to the corners, the fabric strips need only extend past the edges of the template as in the Improv Stripe tutorial (see below).
16. Once template is completely covered, press well and trim down to 12 1/2″ square.
17. Gently remove freezer paper from the back of the block. If it does not readily come off, give the block another quick press and remove the paper while it is still warm. If you're planning to make more blocks, be sure to save your freezer paper template, as it can be used 5 or 6 times or more before it gets too linty and doesn't stick anymore!
18. And you're done!  Great work!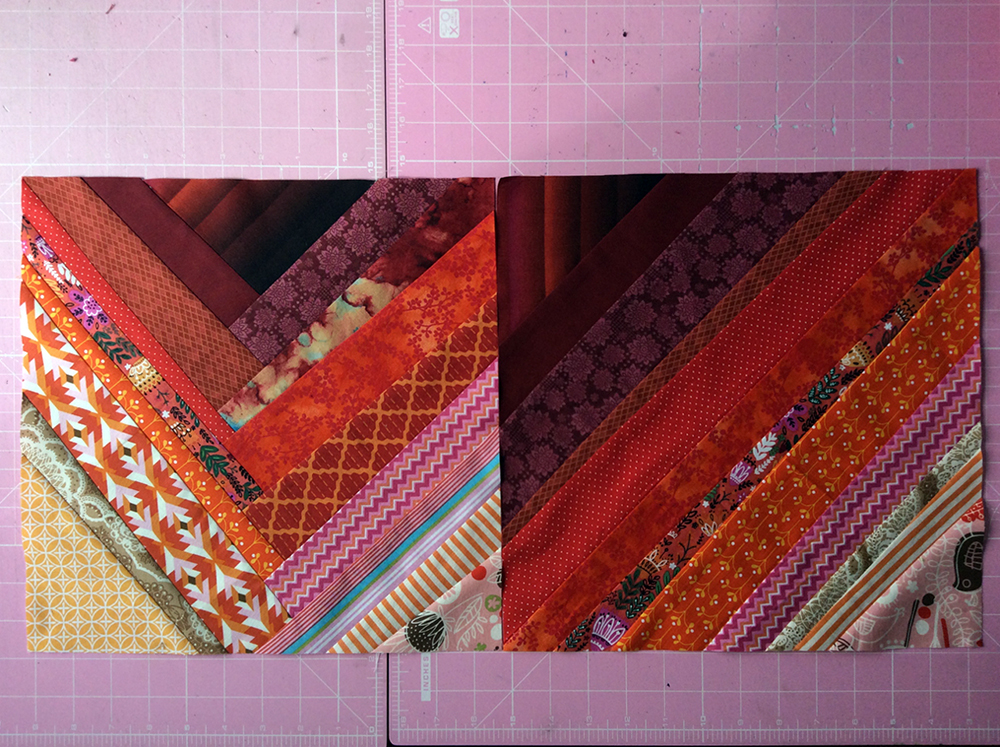 Improv Stripe and Braid Layout Ideas!
Now that we know how to make our blocks, what can we do with them?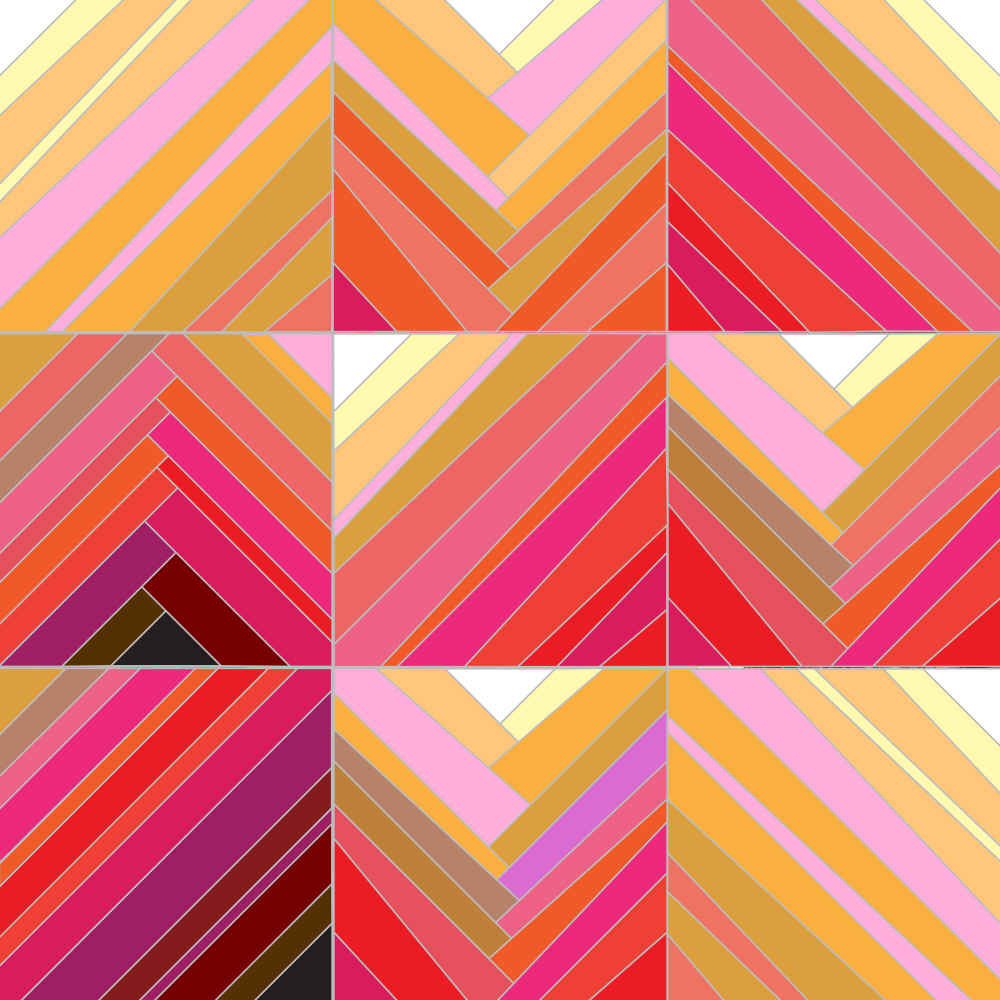 Zig zags!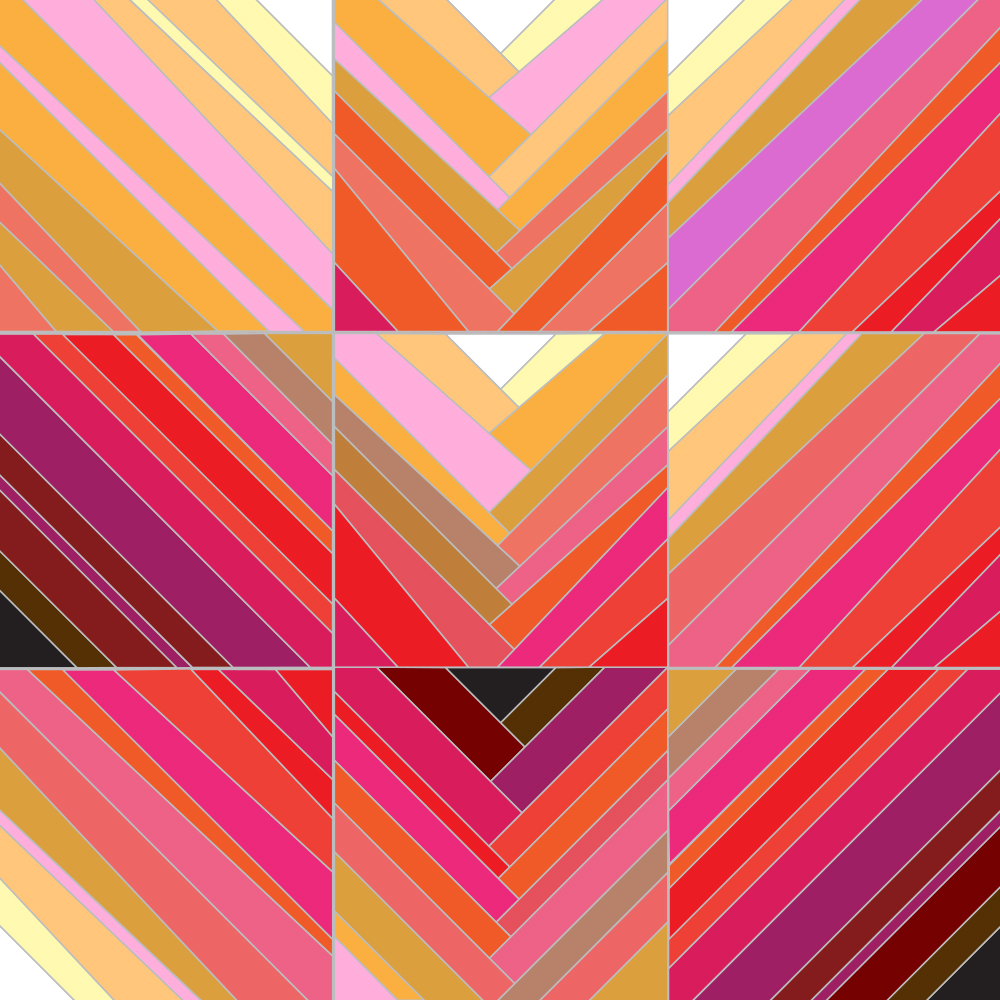 Big braid!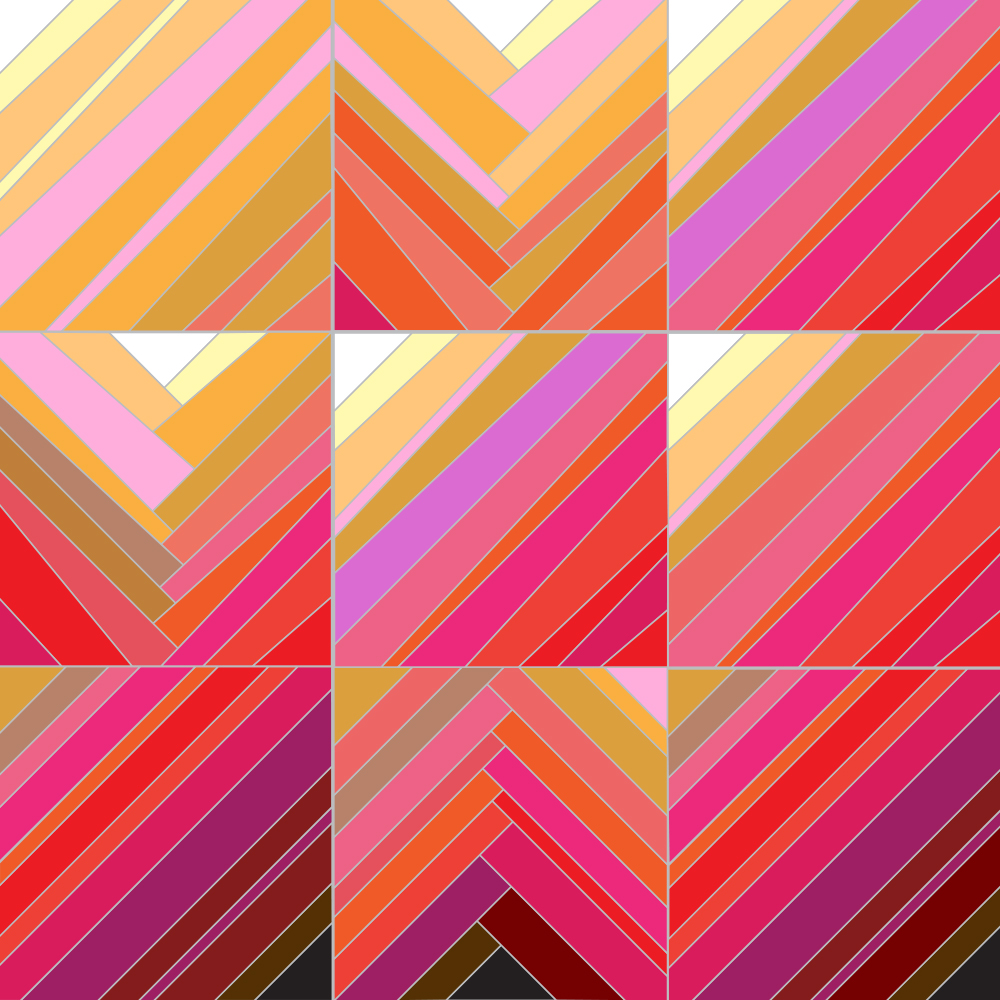 Light to dark!
The sky is the limit! Lay out your blocks and play around until you find a layout that works for you.  There are lots of possibilities with these blocks to make a striking and dynamic quilt.  Be sure to let us know in the comments if you make a quilt using these tutorials.
p.s.  Are you appalled at the state of our cutting mats?  All profits from the pattern shop during the months of March and April will go towards the purchase of a new cutting mat!  So if you've been waiting for just the right time to pick up a new pattern, this is the time! ;)