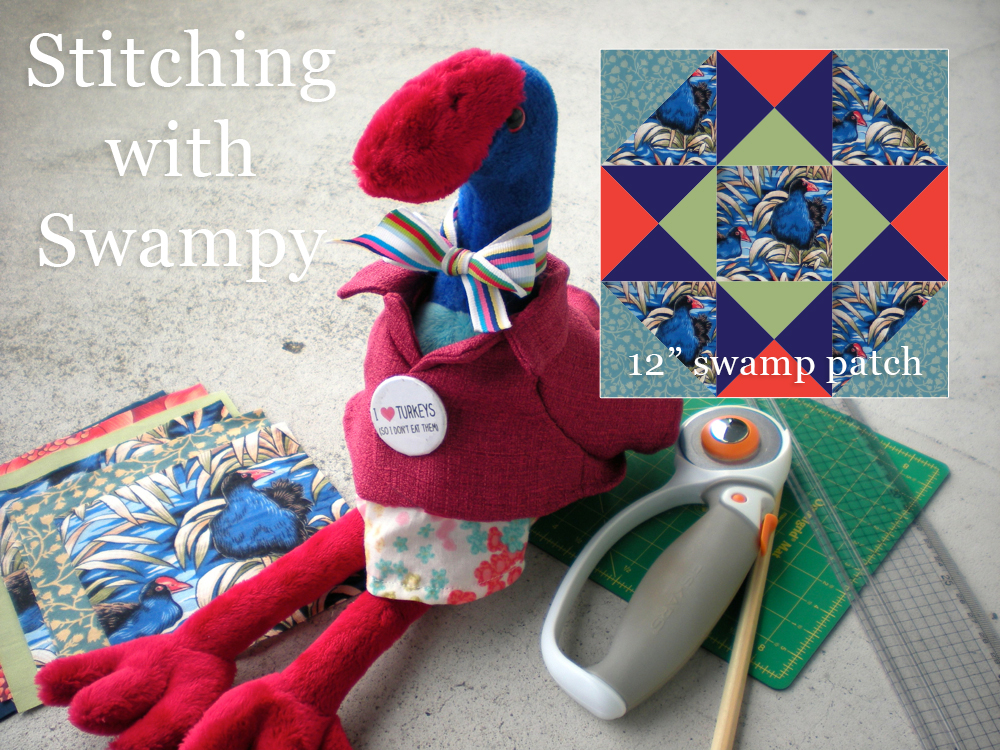 Hello, I'm Swampy, and this is Stitching with Swampy. Let's get started. Today we'll be making a 12″ (finished size) swamp patch block. This block is made up of 4 corner triangles (HSTs), 4 set in triangles (QSTs), and a square which is a good opportunity to fussy cut some of that fancy fabric in your stash.  For this block, you'll need 5 different fabrics.  I used two solids, a pukeko novelty print, and two floral prints.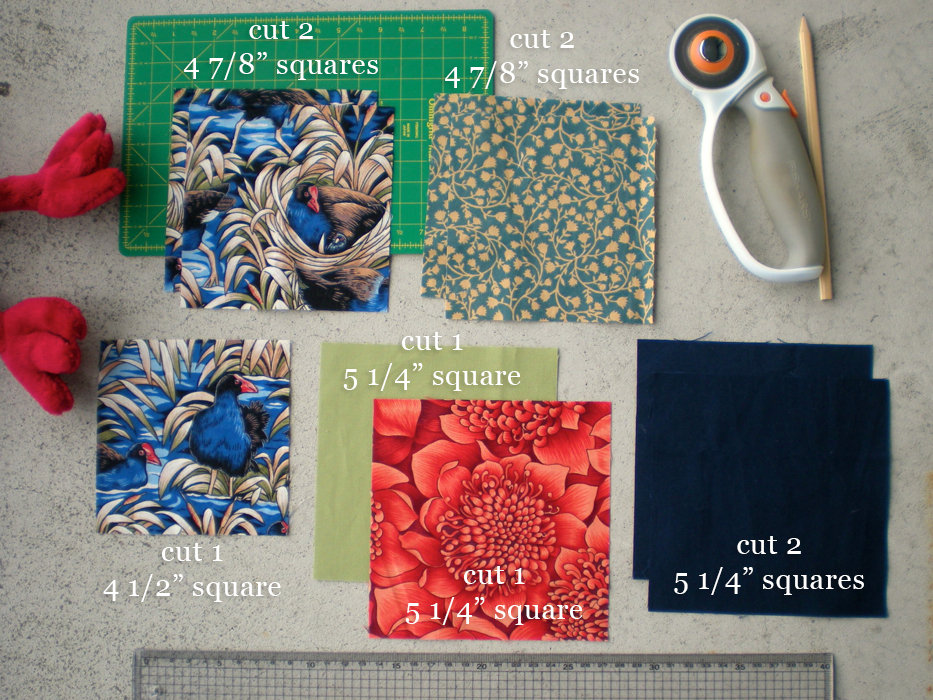 Start by cutting your fabric into squares.  You will need the following:
two 4 7/8″ novelty fabric
one 4 1/2″ novelty fabric (this is the center square which you may want to fussy cut)
two 4 7/8″ blue floral
one 5 1/4″ green solid
one 5 1/4″ red floral
two 5 1/4″ navy solid
Next, set aside the 4 1/2″ novelty square and match up the other squares to make these pairs, placing them right sides together:
novelty + blue floral (there will be two pairs like this)
green solid + navy solid
red floral + navy solid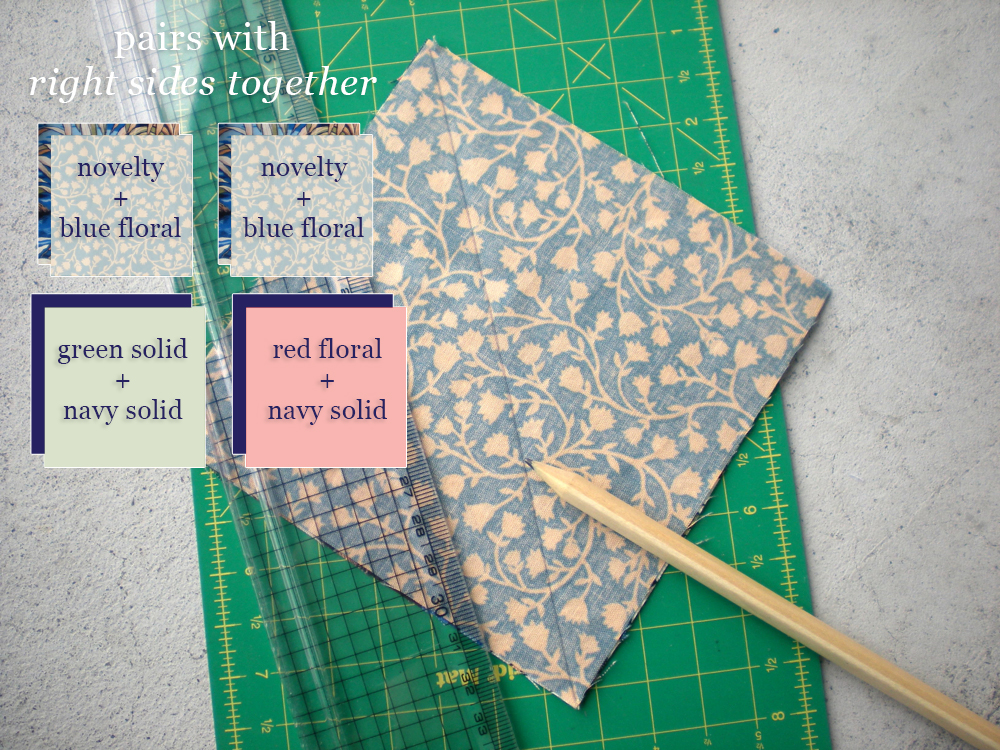 Draw a line diagonally across each pair.  I use a regular pencil for this rather than a special fabric marking tool because it is more precise, and it doesn't matter if it washes off the fabric or not, because you'll never see this line on the finished block.  I also don't use one of my quilting rulers for this, because the ruler will get some graphite on it, and I don't want to unintentionally transfer that onto my fabric somewhere down the road.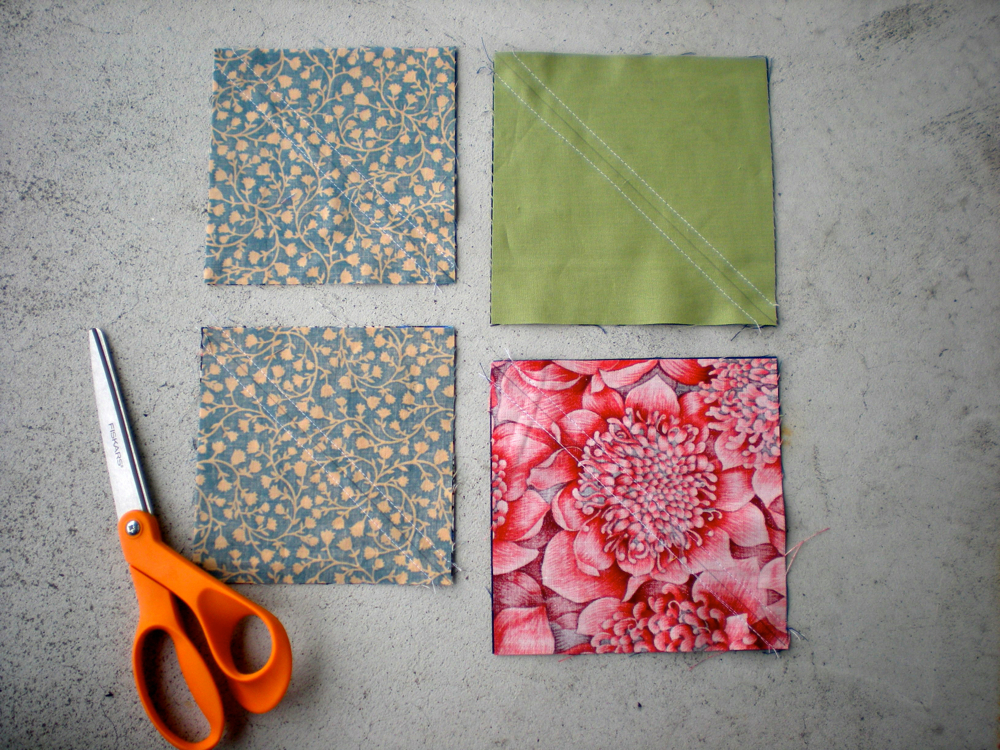 Stitch a scant 1/4″ along each side of the drawn line, then cut each pair in half, using the drawn line as a guide.  I use scissors for this, because there's no point in dulling your rotary cutter blade on something that doesn't need to be perfectly straight or accurate.  But if you want to rotary cut, by all means, rotary cut.
Set your seams and press all your pieces with the seams open. At this point you should have 9 pieces: 8 HSTs and your 4 1/2″ center square. Using a small square ruler, carefully trim the four novelty + blue floral HSTs down to 4 1/2″ square.  They should be pretty close already!  Set them aside with your center square.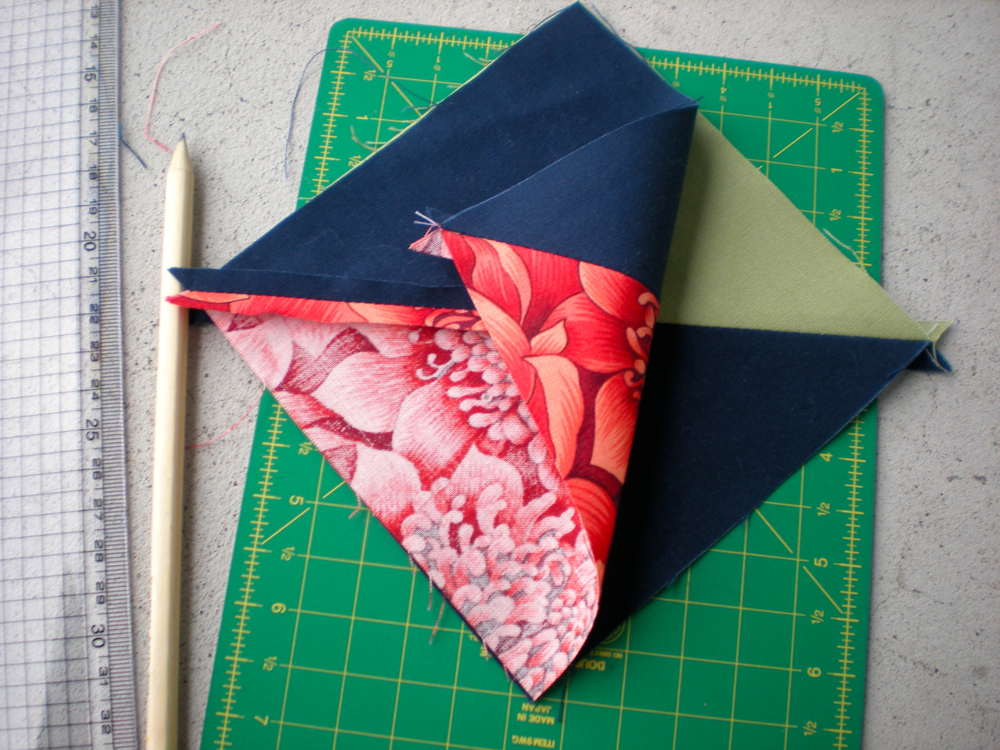 Take your four HSTs with the navy fabric and sort them into two pairs, each with one green solid triangle and one red floral triangle, and place them right sides together like in the picture above.  Make sure the navy triangles are opposite each other and the seams match up.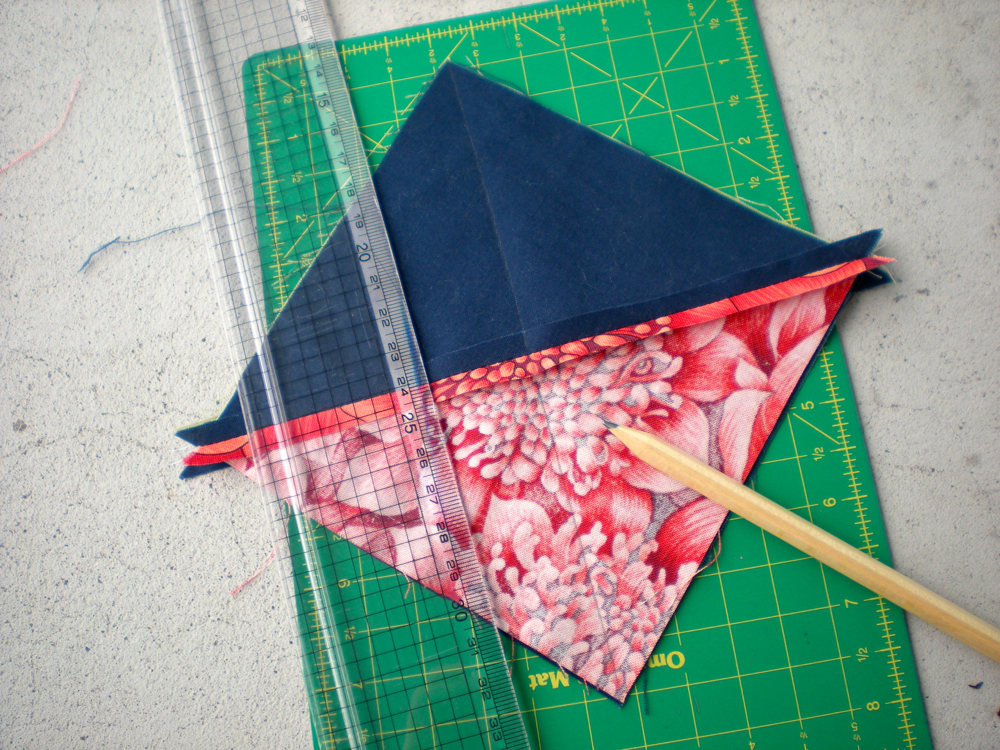 Like before, draw a line diagonally across each pair, perpendicular to the existing seam.  Pin, and stitch a scant 1/4″ from each side of the line.  Before cutting the pieces apart, look inside and ensure the seams match up.  You don't want to be unpicking once the pieces have been cut on the bias.  Adjust if necessary and then cut along the drawn line.  Set your seams and press everything with the seams open.  Trim blocks to 4 1/2″ square.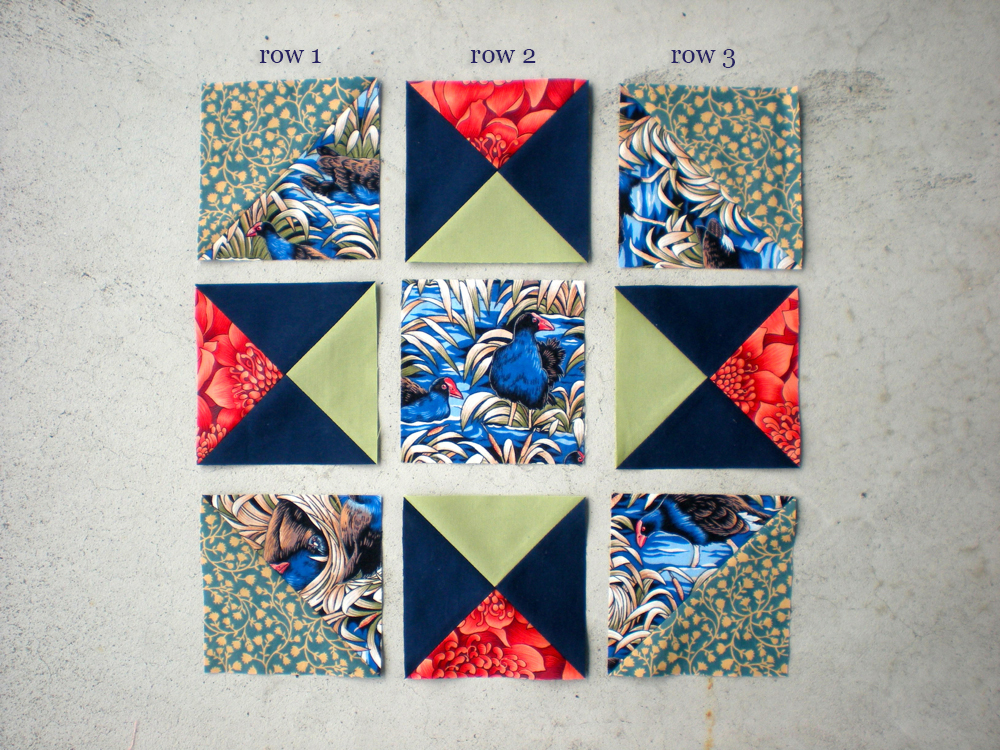 Now it's time to lay out your block (the exciting part, we're almost done now)!  It should look like this.  Pin and sew each row together.  Set your seams, pressing them toward the outside on rows 1 and 3, and toward the center on row 2.  If you're confused, please see the next picture.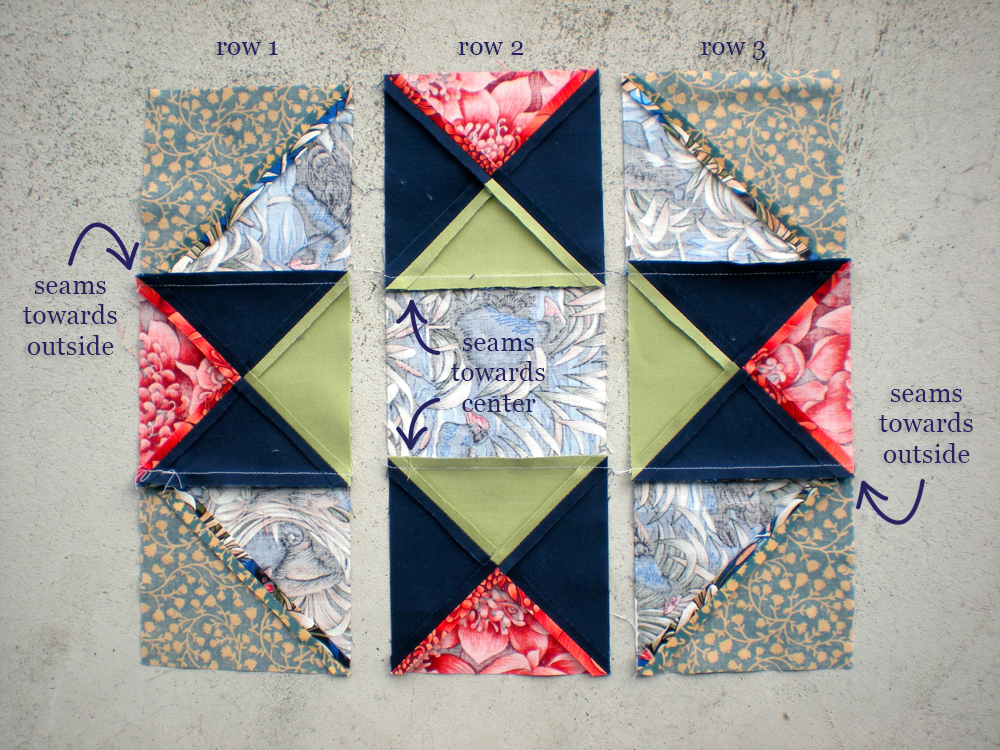 Pressing the seams like this will help you to match the seams on your rows.  Pin and sew the rows together.  Set the seams and press toward the outside.  And you're done!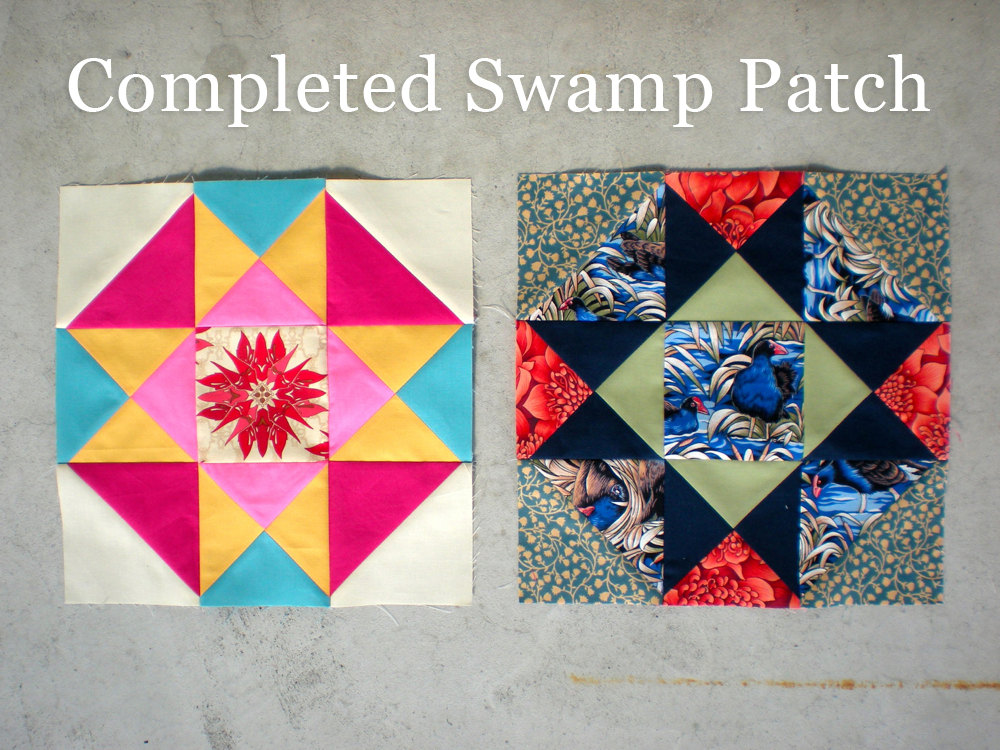 Here is my completed swamp patch block (on the right, obviously).  Robyn made the one on the left.  You may have noticed that because I was using a directional print, some of the pukekos are sideways on my completed block.  If you want to use a directional print or stripes and this bothers you, the issue can easily be remedied by making two blocks at the same time using the same fabrics.  When laying out your block after making all the pieces, use all of the "sideways" HSTs for one and the right side up ones for the other.  After rotating the center square accordingly, the print will be right side up on both blocks!
Thanks for reading and good luck with all your swamp patches!