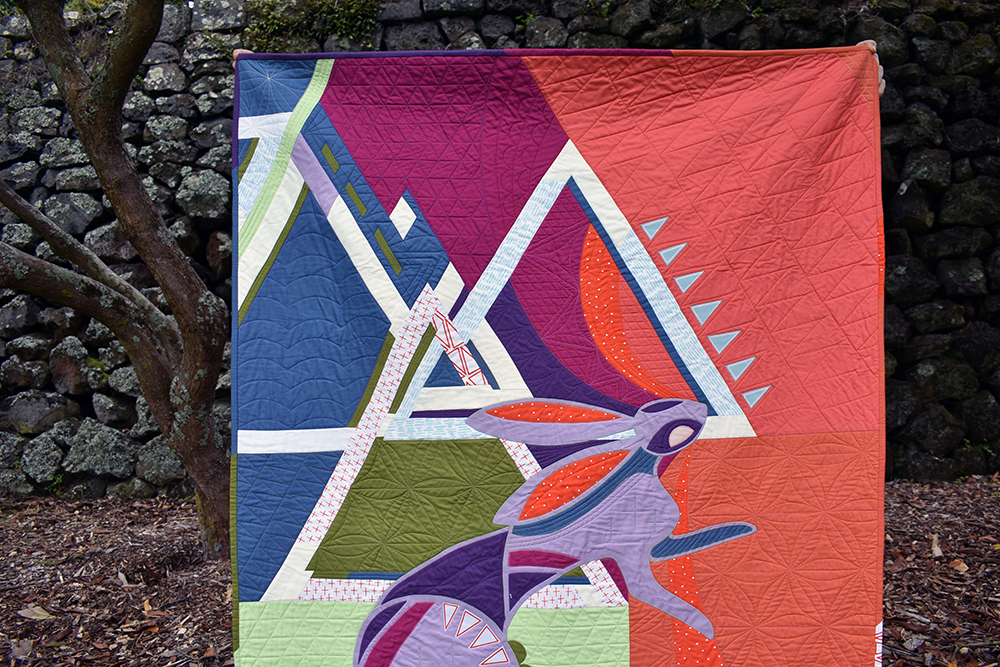 I made this quilt for the MQG Riley Blake fabric challenge.  The prints are from a line called Creative Rockstar by Rad and Happy.  The challenge was to use the prints in the collection together with any Riley Blake solids to make something quilted.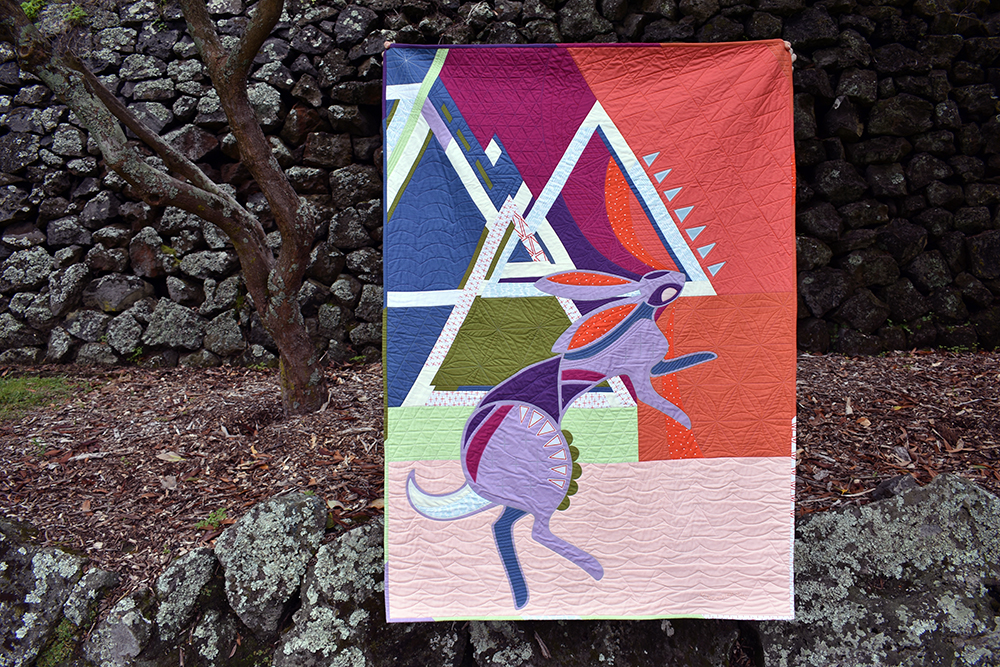 I don't have a Riley Blake colour card and don't know of anywhere local that carries their solids, so I more or less ordered some solids at random from the internet.  While neither of the oranges I chose matched up with the orange print, I am happy with how the solids look together.  Solids are really out of my comfort zone so at least I had this working in my favour.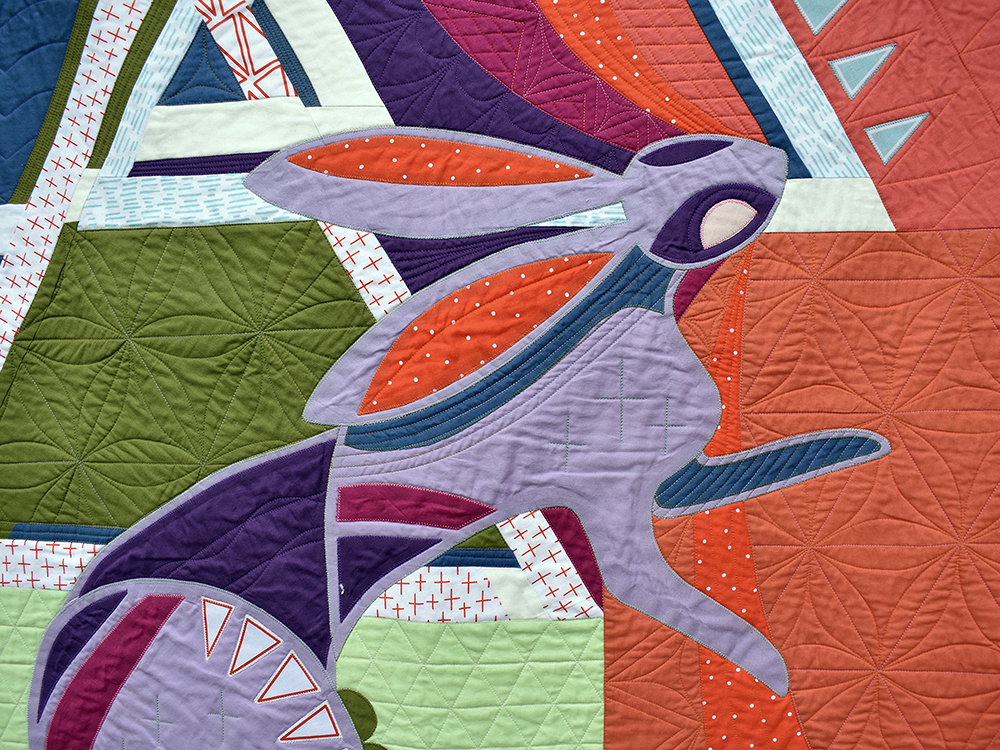 Since I was already dealing with a selection of prints I wouldn't normally choose and solids I wouldn't normally use, I decided to try raw edge appliqué as well because I wouldn't normally do that either.  Might as well get all these activities out of the way at once.  I was also on a short timeline with the deadline for the challenge being 30 April and I was away from my sewing machine for the month surrounding QuiltCon.  So I drew a little picture of a rabbit and some triangles while travelling and set to work when I got back.  I pieced the triangle background first with the pieced curved whiskers in the negative spaces then appliquéd the rabbit and fussy cut triangle print pieces over the top.  I mostly remembered to cut out the centres of the fusible web before adhering it so I was able to trim away some of the excess fabric on the back to keep the areas with several layers from getting too thick.  This helped a lot when I quilted it on my domestic machine.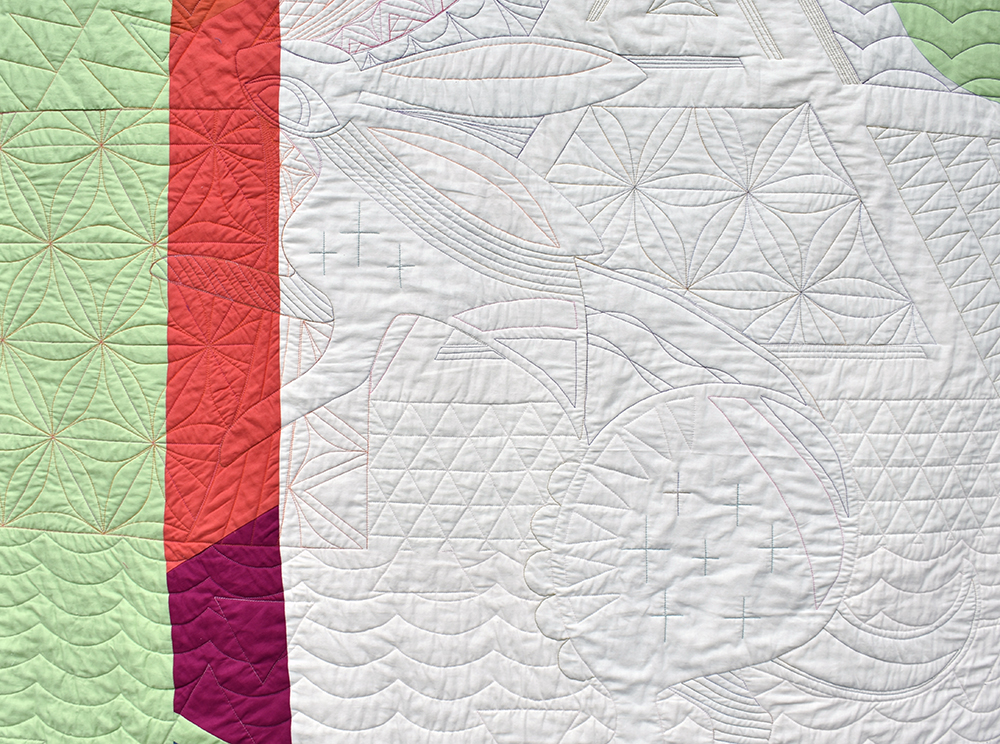 I thought about having another go at FMQ for the quilting, but as the design is geometric with gentle curves, I couldn't think of any particular design that required the effort.  In the end, I did all the quilting using the dual feed on my machine and satin stitch foot (I like this foot for quilting because I can see where I am at in relation to the seams a little better than with the standard foot).  I used a variety of different coordinating threads from my stash, but mostly Aurifil 50wt 2410 (light pink) and 2150 (orange), as well as my absolute favourite variegated thread for quilting, Wonderfil 50wt Tutti TU14, which is called "Spring" and is an amazing combo of mustard yellow, olive green, and lavender.  Seriously, if you see this thread, buy it, it looks great in so many different quilting situations!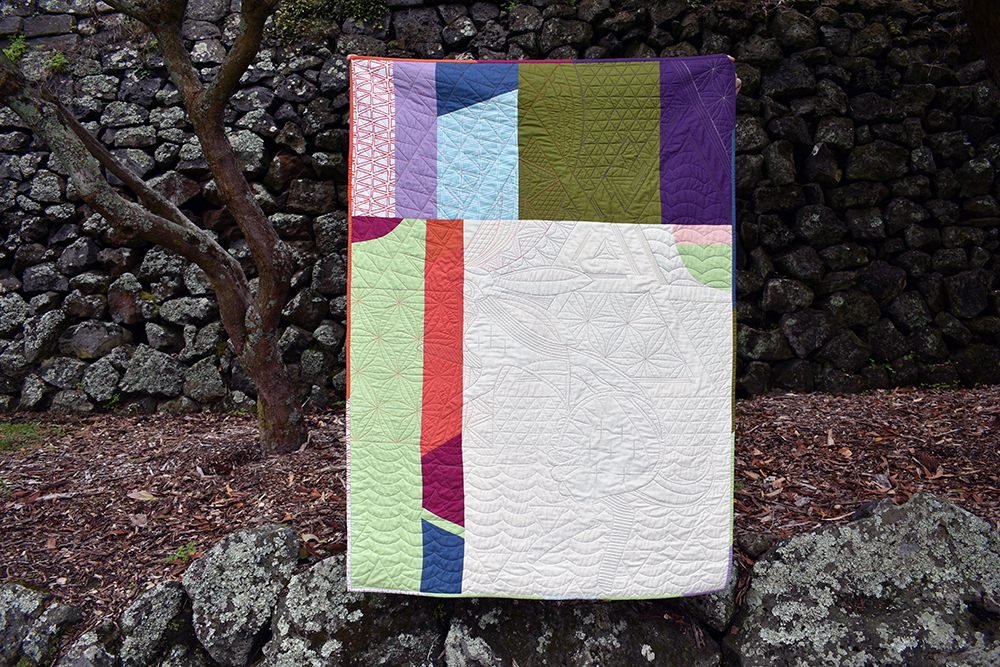 I ordered a completely arbitrary amount of fabric which was only barely enough to piece a back and scrounge some strips for a scrappy binding.  I have a bit of purple left and everything else is tiny scraps.  I don't use solids much anyway so this is probably for the best. :)  That said, I hadn't used the Riley Blake solids before and I found they have a lovely texture.  The white especially has a slightly fuzzy brushed sort of feel to it and they are all pleasantly thick and densely woven.
Quilt Stats
Title: Rockstar Hare
Dimensions: 42″ x 58″
Pattern: Improv
Fabrics: Riley Blake Creative Rockstar and Confetti Cottons Rouge, Orange, Cloud, Celery, Coastal Blue, Crayola Purple Mountain Majesty, Peaches 'n Cream, Fuchsia, Olive, and Lilac
Completed: March 2017
Bonus Stat: This quilt won the Merit prize in the Modern Category, Auckland Festival of Quilts 2017.
I hope you have enjoyed seeing this quilt.  I thoroughly enjoyed making it (and finishing it at a self record setting pace), but I do not think I will make anything that looks remotely like this again.  Though there may be more appliqué in my future.
Linking up with sew, stitch, snap, SHARE.
SaveSave