As a child, I was a somewhat ridiculously picky eater (Sorry Mom and Pop!).  My main staples were not vegan in the slightest, or even things I would want to try to veganize to eat now…. but I remember my father would make us chili which I didn't like that much then, but now I realize its fantastic-ness.  Also, when we had chili, my mother would make cornbread and bake it in the frying pan.  I love cornbread. Mmm…. cornbread…
Anyway, today we have not one, but three recipes!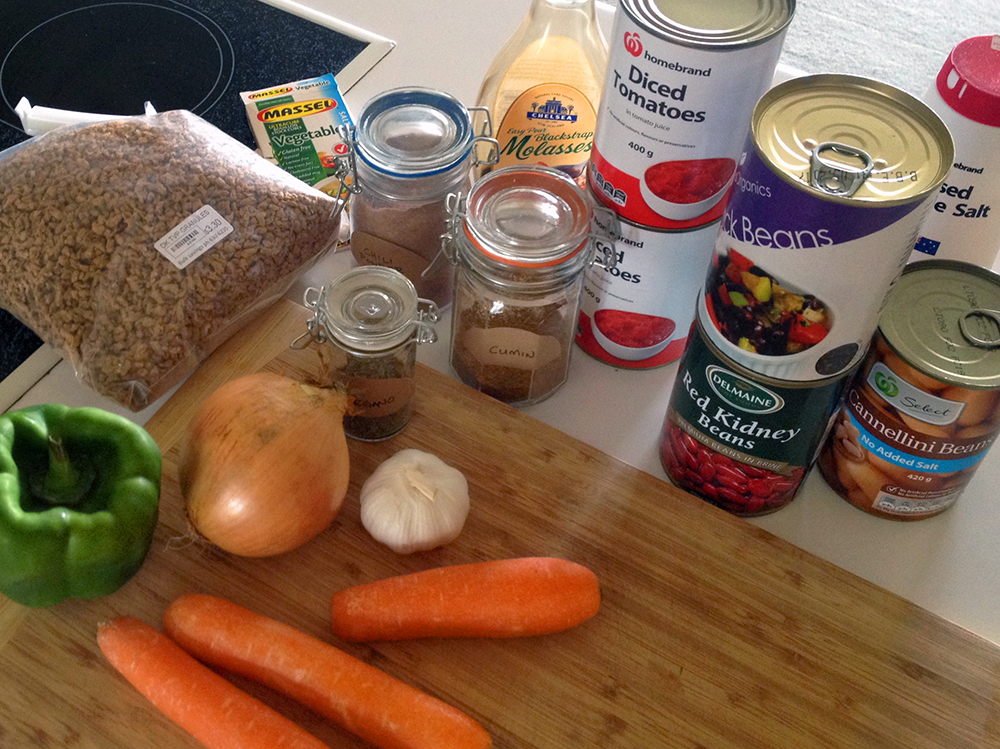 Chili
Makes ~4 servings
1/2 cup boiling water
1 veggie bouillon cube
1/4 cup TVP
2 tbsp olive oil
1 good-sized onion, diced
1 medium sweet potato (kumara) or large carrot, sliced into 1/4″ rounds
1 jalapeño, seeded and diced (optional)
4 cloves garlic, diced
2 tbsp chili powder (see next recipe)
1/2 tsp oregano
1 tbsp cumin
1 tbsp molasses
28 oz. diced tomatoes in sauce
28 oz. canned beans of your choosing (pinto, black, garbanzo, etc.), drained and rinsed
1 1/2 tsp salt
Dissolve bouillon in water and add TVP.
Meanwhile, heat oil in large pot over medium heat and add onion and sweet potato/carrot.  Sauté until onions are getting clear.
Add jalapeño, garlic, spices, molasses, and half of the tomatoes.  Mix well and cook a few minutes more.
Add second half of tomatoes and the beans.  Reduce heat to low.
Cover and cook at least 20 minutes until everything is mingling well.  I usually cook around  30 minutes, it only gets better the longer you cook it!
Add salt and adjust to taste.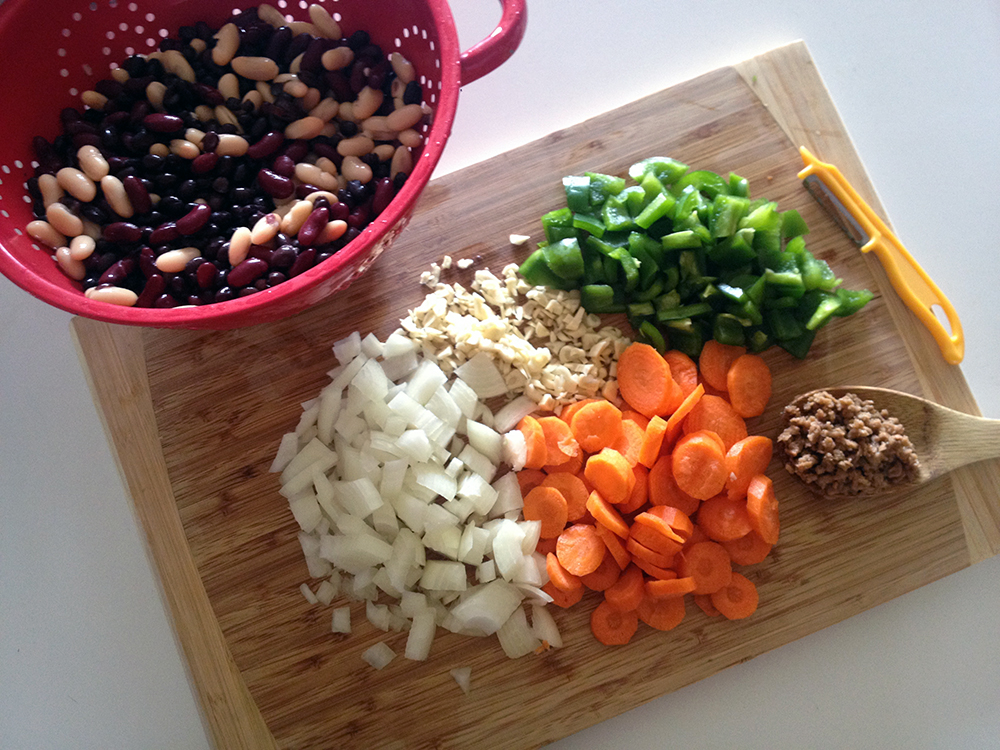 You can also make this in the crock pot.  That's what I did when I took these pictures.  Soak the TVP like step one of the recipe then dump everything in the crock pot and wait a few hours.  It's cool like that.  You'll also notice a bell pepper (capsicum) in my photos which is isn't in the recipe.  He was in the fridge and looking a bit sad and wrinkly, so he decided to join the chili.  You can add whatever you want to chili!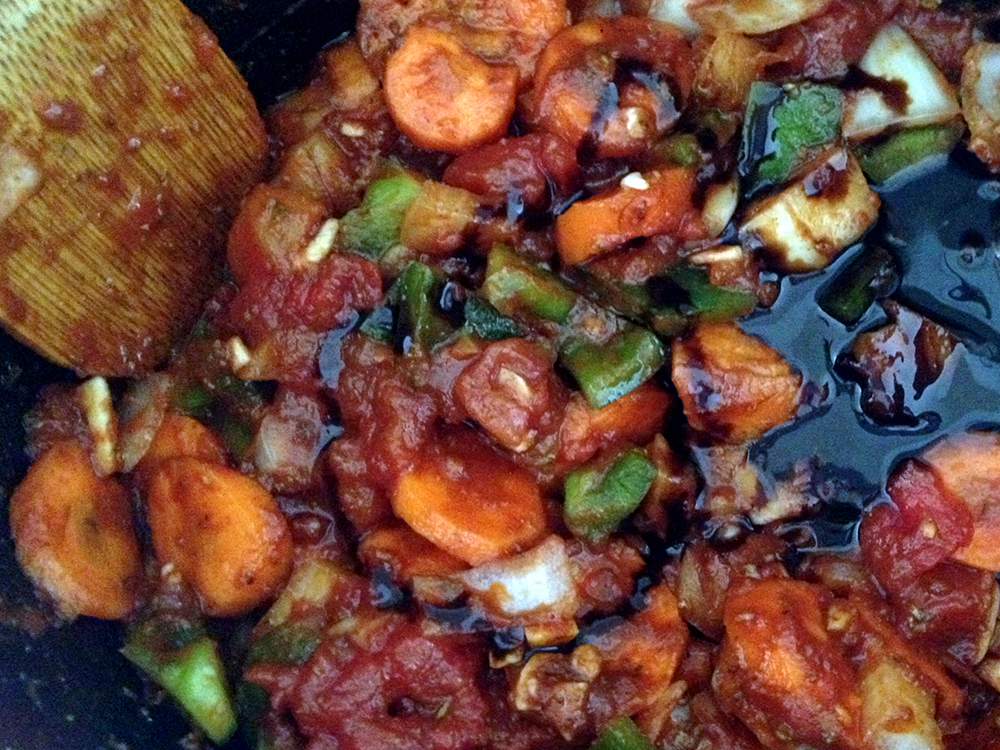 I discovered early on living in New Zealand they don't eat a lot of chili (if any).  So if you go to the store and buy "chilli powder" you are getting just that.  Hot peppers made into powder.  Do not put tablespoons of this into your chili or it will be ridiculously spicy while simultaneously having no flavor whatsoever.   But that's ok, you can make your own chili powder!
Chili Powder
1/4 cup paprika (any paprika but not the smoked paprika!)
1 tbsp garlic powder or 4 tsp garlic granules
1 tsp cayenne pepper
1 tbsp onion powder
1 tbsp dried oregano
2 tsp ground cumin
Combine everything in a jar or other storage container.
Finally, the cornbread.  I have tried a lot of cornbread recipes over the years because I have certain qualifications for a cornbread.  It should be the right combination of grainy cornmeal and fluffiness, while also being moist but not rubbery.  It should also allow for the addition of whole corn kernels when desired.  Here is what I've come up with:
"Buttermilk" Cornbread
Makes an 8″ square cornbread or 8 standard-size muffins!
1 tbsp apple cider vinegar
1 1/4 cup soy milk
2 tbsp flax meal
6 tbsp water
1 cup yellow cornmeal
1 cup all-purpose flour
1/4 cup sugar
1/2 tsp baking soda
1 tsp baking powder
1 1/2 tsp salt
1/4 cup margarine, softened
1/2 cup frozen corn, rinsed (optional)
Preheat oven to 400°F (200°C).  Grease an 8″x8″ cake pan.
Whisk together vinegar and soy milk, set aside.
Whisk together flax meal and water, set aside.
Combine cornmeal, flour, sugar, baking soda, baking powder and salt.
Check that oven is preheated and your corn is measured and rinsed (if using), then add margarine, soy milk mixture, and flax mixture and stir until just combined.
Fold in corn if using.
Pour batter into pan and bake immediately for 20-25 minutes.
Cool 10 minutes in pan on wire rack, then loosen around the edges with a knife to remove and transfer to a serving plate.